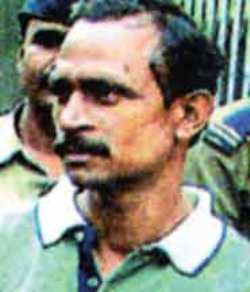 Nagpur News:"They all grabbed Akku Yadav by neck and fists, stabbing him with sharp edged weapons 50-60 times. Blood soaked Akku crept to the court room and succumbed to his injuries just beside the judge's seat."
Head constable of Nagpur Crime Branch Damodar Choudhary deposed this before the court of additional session judge P M Dunedar during the hearing of the much talked about Akku Yadav killing case. The dreaded criminal of Kasturba Nagar under Zaripatka Akku was lynched to death in the court premises on August 13, 2004.
Assistant public prosecutor Ravindra Bhoyar was questioning Choudhary while recording the statement of eyewitness in the case. Replying to Bhoyar's query Choudhary told that he brought accused in police van on the fateful day. "I was accompanied by other two constables Ravindra and Jaishankar. We were taking four accused with us and Akku was one among them. As we walked through the family court towards the courtroom no. 7 of first class judicial magistrate, about 10-12 women and 25-30 men rushed into us at the channel gate. They started using foul language against us. Sensing the situation we pushed Akku back into the channel gate," Choudhary revealed.
He added that assistance police inspector Sahare alerted them about the possible attack on Akku, after which he called up at the control room to seek extra policemen for security. Meanwhile, the angry mob broke open the wooden door and rushed in. Akku was with the police constable Ravindra then.
He quipped, "Unruly people even pushed us back and started stabbing Akku, killing him on the spot. Other accused were also injured in the assault. Then the attackers started rushing from the spot where I caught hold of an attacker but he was forcibly released by the crowd."
Confirming the identity of few of the assailants Choudhary said Eknath Chavan, Usha Narayane, another woman named Borker, Pankaj Bhagat, Urkude and Pinky are some of the people whom he had seen attacking Akku. Soon after the incident he rushed to Sadar police station and registered the complaint.
He also informed that next day CID had also recorded his statement. "Even I had recognized these accused in the identification parade held at central jail", he said. The defending counsel R K Tiwari further examined Choudhary's statement.
The court ordered the next hearing on December 10.