Bakery festival 'Pastel De Fiesta'-2013 commence at LAD & SMT RP College for women, seminary hills Nagpur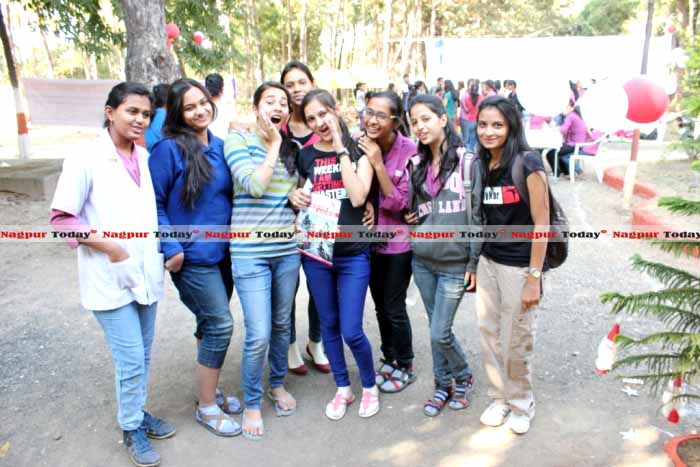 Nagpur Today.
Department of Hotel Management and Catering Technology:
The department of hotel management has one again organized its annual bakery festival-'Pastel de Fiesta'. The cake festival is a part of the curriculum of 3rd year students of Bachelor of Hotel Management of Catering Technology course. It gives the students an opportunity to exhibit their entrepreneur skills. The students handle various aspects of event like production, budgeting, publicity, sales, etc.
The students have offered a Bakery Bonanza from the hot oven amidst the ongoing Christmas season on 19th and 20th Dec, 2013 at LAD & SMT RP College for women, seminary hills, Nagpur from 10 am to 4 pm. The students will create an ambience of Christmas. A variety of mouth watering, sweet creamy delicacies would be provided namely pastries, brownies, rum balls and other savory like garlic loaf, Banana bread pizzas, Puffs and many more.
The guest on its first day was Jagdish Patil. The event is being organized by the third year students working in the following capacities:
General Manager                           : Shreevidya Vardhan
Asst Gen Manager                         : Pooja Kasture
Sales and Marketing Manager   : Milli Keshwai
Finance Manager                           : Surabhi Biniwale
Production Incharge                     : Madhulika Verma
F&B Manager                                  : Anuja Bhasme
Housekeeping Incharge               : Shweta Vertak
The event was carried out under the able guidance of HOD Jyotsna Patil, Bakery Chef Uday Naseri, Ameeta Jharia, Charuta Gajbhiye, Vishaha Shahane and Nandita Sapra. The students are also thankful to the management and the principal for giving them this opportunity.