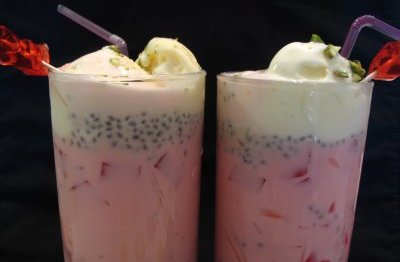 Falooda is a popular dessert not just in Mumbai (Bombay) where it is thought to have originated but also in the rest of the country. This chilled drink-dessert is the perfect way to cool off in the summer heat.
Ingredients:
1/2 cup fine rice vermicelli
1 glass chilled milk – use the glass (preferably a tall one) you will use to serve the Falooda,
1/2 cup pistachios, shells and skins removed
1/2 cup almonds, blanched/ skins removed
2 tsps sugar, ground to a fine powder
3 tbsps Basil seeds – Sabza Beej
6 tbsps rose syrup
2 scoops ice cream of your choice
Preparation:
Cook the vermicelli like you would pasta – in boiling water and till cooked yet al dente! Strain and keep aside to cool. Then chill in refrigerator till needed. You could add a yellow food colour or safaron if you like colour
Keep aside a few almonds and pistachios – about 6-8 each – and cut into thin slivers. Keep aside to use as a garnish later.
Put the milk, powdered sugar, pistachios, almonds in a blender and blend till smooth. Chill in the refrigerator.
Put the the basil/ Sabza seeds in a bowl and pour enough water over them to completely submerge. They will soon start to swell and look transparent with a small dot-like, black center! Strain and keep aside in a small bowl.
To assemble the Shahi Falooda: Frost 2 tall glasses. In each glass, put half the vermicelli, half the pre-soaked Sabza seeds. Now pour in half the milk over them. Put just under half the rose syrup (keep a little for garnishing with) in each glass and mix well. Add a scoop of ice cream to  this and drizzle with some more rose syrup. Garnish with slivered almonds and pistachios. Add a straw and long-handled spoon and serve!
 Chef Khosla