Baby dies in woman's womb due to doctors' negligence

Nagpur News : Increasing cases of doctor's negligence is seen almost every other day at Government run Hospitals in the city. One more case of GMCH Doctors' negligence has come to fore when a baby dies in the womb of a woman admitted in the maternity ward of GMCH on March 15, 2014.
According to the father of the deceased baby Nitin Bondre aged 25 years, and a resident of Bhavani Nagar in Pardhi, and the friend of the father, the mother of the deceased baby Nisha was admitted in the maternity ward of Government Medical College and Hospital on March 12, 2014.
The doctor who was attending on Nisha for the past 7 months had told the parents of the deceased that the baby was perfectly normal. Nisha was not attended to properly and was neglected by the doctors for the last three days. Nitin alleged that in spite of the cries of his wife Nisha's pleas, the doctors ignored her and did not operate or do any sonography to ascertain the exact position and life of the baby.
On March 15, 2014, at 8 am, the doctors allegedly operated on the Nisha and took the baby out after getting a clearance of the father saying the life of the baby is critical and may not survive. The baby was allegedly already dead. However, the attending doctors of GMCH told the father Nitin and his relatives that the life of the baby is critical and saving the baby is close to impossible.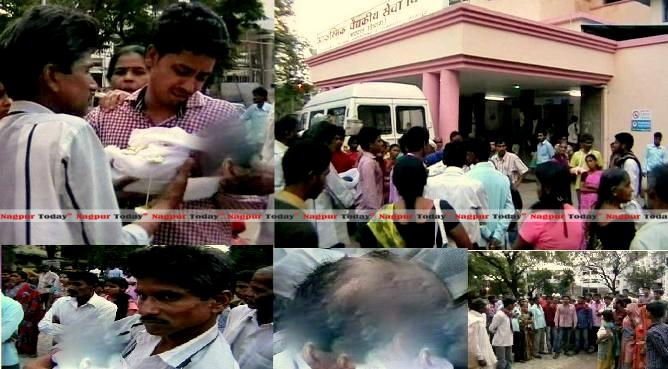 One of the friends allegedly asked the doctors if they can put the baby on ventilator, to which the attending doctor allegedly said that at GMCH we do not have any material or machinery that works well with which we can save the life of the baby. The doctor allegedly said that a tube has been inserted into the lungs of the baby which is helping the baby to breathe. When the friends asked if they could take the baby to a private hospital, the doctors refused saying that if they take the baby out of the hospital, they will give no guarantee of the baby's life.
Three years ago Nitin Bondre was married to Nisha three years ago. Right from the first year, the family members of both Nitin and Nisha have been living with a hope to see their baby. This year as soon as the doctors delivered the news of Nisha conceiving, the family was elated and very happy. The sudden death of the baby due to doctors' negligence has made the family members inconsolable and into severe shock. The anger, wrath and inconsolable sorrow of the family and friends of the deceased baby was very evident by the wailing, crying and shouting at the GMCH doctors.
:: Ravikant kamble