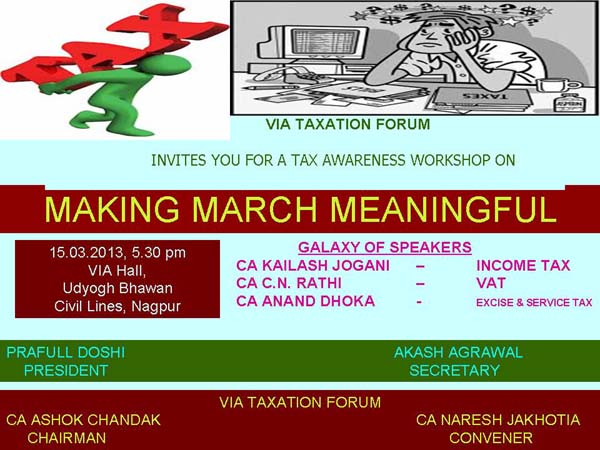 Nagpur News: Income Tax, VAT, Service Tax, Excise and many other taxes are assessed on the Financial year basis. So, in the Tax Laws 31st March is Landmark date not only due to closing of the Financial year but also due to various compliances associated with the end of financial year i.e., 31st March.
With a view to understand the accounting & Tax Precaution & to take the maximum use, an awareness Programme "Making March Meaningful" is organized by the VIA Tax & Corporate Law Forum in association with the Nagpur Branch of WIRC of ICAI.
The speaker for the Programme are the renown tax consultants of the city namely CA Kailash Jogani for Income Tax, CA. C.N. Rathi for Sales Tax & CA. Anand Dhoka for Excise & Service Tax.
The programme is scheduled on 15.03.2013 between 5.30 pm to 7.30 pm at VIA Hall, Udyog Bhawan Civil Lines, Nagpur.
The programme is free of cost and is open for all. People are urged to take the advantage of the programme. Industrialists, Businessmen, Accountants, Professionals etc are appealed to take the benefit of one stop programme covering Income Tax. Sales Tax, Service Tax & Excise.
Informed the press release issued jointly by CA. Naresh Jakhotia, Convener for VIA- Tax & Corporate Law Forum & CA. Abhijit Kelkar, Chairman of the Nagpur Branch of ICAI.