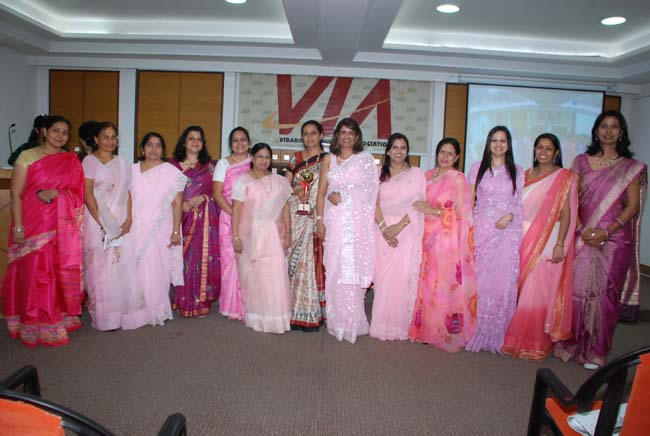 Nagpur News: The International Womens Day was celebrated by VIA LEW at Udyog Bhavan on 11th March. Mrs. Anita Rao, President VIA-LEW welcomed the Speaker Shivani Dani–Financial Advisor.
Shivani Dani was welcomed by Anita Rao, President VIA – LEW. Anita Rao also briefed the audience about the programme. Prafullata Rode-Advisor VIA-LEW in her speech elaborated the concept of Womens Day. She gave the history of International Womens Day right from its inception in the year 1900.
Clera Zetkin a social reformer from Germany is called the mother of this concept as it was she who, for the first time in the world proposed the idea of having such a special day for women, she said. While throwing light on the global movement of women for equality & Justice. Further, Rode explained the role of UN in the celebration of this day. The goals for the international Womens Day for last 10 years were explained by Rode. The goal declared for 2013 is "A PROMISE IS A PROMISE. TIME FOR ACTION TO END VIOLENCE AGAINST WOMEN. Rode stressed that a large percentage of ladies are still victims of atrocities, injustice. We women are safe neither in the womb nor in the outside world, she said.
To empower herself a woman must understand that she must care for every woman around her. Unity amongst women can act as a deterrent to the criminal minded males. Also she needs to explore her hidden talent & break the chains of limiting beliefs. One woman can do many things, many women can do everything said Mrs. Rode. She appealed to the large audience to unite & also to pass the values to the next generation.
Shivani Dani pointed that women who are otherwise best managers don't take interest in financial aspects & are normally dependent on some men for this purpose. If women become their own financial advisors they can take their businesses to new heights. Women should be alert about the financial budget, national & international financial events. Finance is the most easy subject to understand but women just avoid it she said, That would be real women empowerment she said. While taking the audience through the journey of financial awareness she appealed all the ladies to lead their lives as per their choice. When centuries before Zanshi ki Rani could give a fight why can't we? Asked Shivani.
In response to the declared competition VIA-LEW had received 30 applications from women entrepreneurs from various fields. Madhubala Singh advisor VIA-LEW appealed all the women to believe in their own strengths & work for the betterment of the society at large. Mrs. Singh explained the process of scrutiny & declared the BEST ENTREPRENEUR AWARD which was bagged by Dr. Smita Bhabra who has her enterprise named Global Technologies working in the field of environment.
With 450 employees she is catering to the needs of large no of multinationals. Smita Bhabra received a trophy at the hands of Shivani Dani. Bhabra gave a brief account of her own journey from mining research to a company related to the environment.
The programme was largely attended by ladies. Mrs. Vandana Sharma, Secretary VIA-LEW proposed vote of thanks. The programme was conducted by EC Member Poonam Lala. Present on this occasion were Sarla Kamdar, Advisor VIA-LEW, Neelam Bowade, Anjali Gupta, Ex Presidents LEW, Reeta Lanjewar, Sachi Malik, Manisha Bavankar & Indu Kshirsagar.