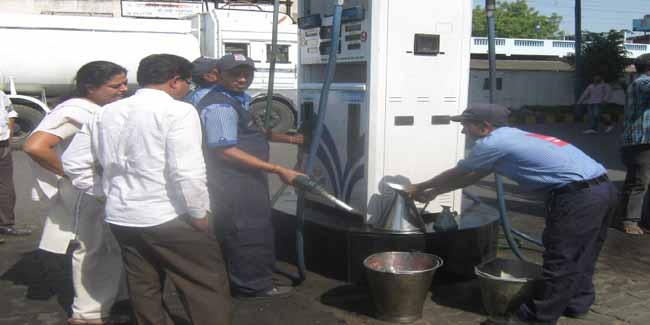 Nagpur News: Taking a serious note of complaints against petrol pumps situated on Hingna Road in Hingna Tehsil which are delivering less quantity and adulterated petrol and diesel to consumers, the concerned authorities carried out an inspection of these petrol pumps and inspected all the machines.
The authorities warned of stringent actions if a petrol pump or a company or other traders cheat consumers by delivering less amount of goods or adulterated stuff. They said they have information that traders in weekly markets deceive the customers and warned of sever action against them also. The authorities sought cooperation from citizens in curbing the cheating methods of traders as the department lacks sufficient employees who cannot attend every complaint to give justice to the customers.
Following checking of the Hindusthan Petroleum Company Limited's (HPCL) petrol pump the authorities did not find any fault in the machines and gave a clean chit to the petrol pump. The authorities said they inspect all the petrol pumps from time to time if they receive complaints from customers. In future, too, they would inspect petrol pumps or for that matter other shops and companies if a written complaint is lodged with them by any person.