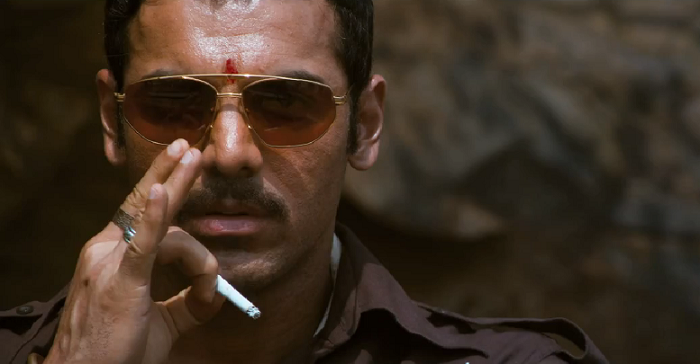 Cast: Anil Kapoor, John Abraham, Kangna Ranaut, Manoj Bajpayee, Sonu Sood and Tushaar Kapoor
Direction: Sanjay Gupta
Genre: Crime
Duration: 2 hours 30 minutes
Plot: The story was a much predictable one that how a simple young boy, gets into the trouble given by police and been sent to jail .gets a life imprisonment and then one day gets a chance to flew from the jail and start a new life with a new dream being a gangster "Bombay ka naya baap- Manya Surve" John Abraham plays Manya Surve, a bright student with a promising future who turns against the system after being wrongly framed in a murder case.
There's Vidya ( Kangna Ranaut), Manya's love-interest, Sheikh Munir(Tushaar Kapoor), Gyanchod (Sidhanth Kapoor) and a couple of more hoodlums who are his henchmen. And you have their deadly opponents—the Haksar brothers, Zubair (Manoj Bajpayee) and Dilawar (Sonu Sood).
Anil Kapoor ,Ronit Roy and Mahesh Manjrekar play the cops while the cameo is done by Jackie Shroff .Manoj Bajpayee and Sonu Sood are  rival mob-bosses who appear on screen as the so called "Bhai" who have power to perform though the director dint use them well. Kangna Ranaut plays one expression for the entire duration of the film irrespective of what the scene demands.Regreting the fact of Manya falls into all the troubles because of the character Kangna plays in the film.
Tushaar Kapoor 's some wacky comedy gets a smile on your face for some time  , John Abraham & Anil Kapoor's heavy dialogues give rest when these three ladies come one by one with their so called item numbers , Priyanka Chopra with babli badmash, Sunny Leone with Laila and Sophie Choudhury with Alla re Ala
As far as performances are concerned, John Abraham lives up to expectations by adding a realistic mustache. Rest of the cast is average with only Sonu Sood standing out.
The language used in the film is not made for families as we still avoid slangs & abusive language at the worst stigmas too.
The exaggerated action scenes and over-the-top violence makes it difficult to believe that the film is inspired from journalist S Hussain Zaidi's non-fiction book Dongri to Dubai.
Verdict: This movie ends RAW, left you with opened JAW, u think why did I see "SAW".

 Yash Raj Trivedi