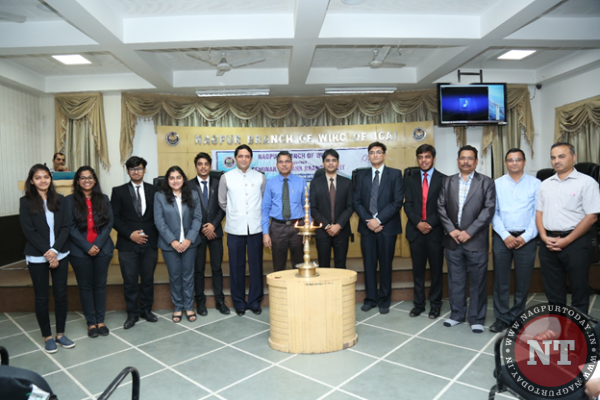 Nagpur: Nagpur Branch of WICASA organised a Seminar on Statutory Bank Branch Audit with Munusamy (AGM – BOI Main Branch) as the Chief Guest of the seminar.
Munusamy addressed the gathering by sharing the history of Bank of India and Indian Banking Sector as a whole. He emphasized the role of Chartered Accountants as auditors and stated that auditors are caretakers with eyes, hands & ears of the bank. He further stated that banks cannot survive without customers and mutual trust between bank & customers is the key to the relationship. He reposed confidence in the process of audit and stated that a certificate by an auditor is taken as fool proof document and management, customers as well as stakeholders rely upon and look upon the auditors with immense respect.
WICASA Chairman CA. Jiten Saglani stated that financial year end marks the flagging off the Bank Branch Audit and students who will be doing the audit will get to learn the practical aspects of Statutory Bank Branch Audit and they will be able to assist their Principals in a efficient and time bound manner through the today's seminar.
Chairman CA Umang Agrawal, Nagpur Branch addressed the students by saying that students are very much responsible while carrying out bank audit as they are on the field and they should be equally equipped while carrying out the engagement and hence this seminar is of utmost relevance and importance.
RCM CA Abhijit Kelkar explained the importance of Banking operations as the bank being the backbone of economy. He complimented team WICASA for organizing such a knowledgeable program for students and wished the programme all the success.
CA. Nealesh Kelkar, CA. Pankaj Kher, CA. Ashish Badge & CA Ninad Nandgaonkar deliberated during the sessions and covered various topics right from basics of bank audit, classification of advances, IRAC norms & CBS. The students had much elaborated learning during the day which will help them to help and conclude the bank audit in much better way.
The programme was attended by nearly 120+ students and prominently present were – CA. Suren Duragkar & CA Swapnil Ghate and the WICASA team Udit Choithani, Apeksha Gundecha, Yogesh Advani, Trishika Shahu, Khyatee Gattani & Riskhit Narang.