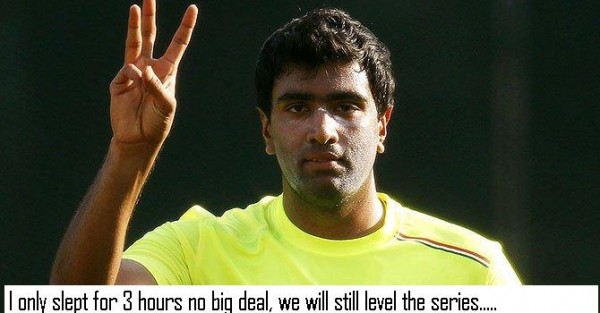 The question that is running through every Indians mind is whether India will be able to win the 4th test and save their blushes of a series win for England but for now it looks that this situation doesn't bother the Indian spinner Ashwin as he slept his way to glory in the process of missing the practice session at Jamtha today.
On speaking to the manager of the Indian Team Satish about Ashwin's absence for the training session, the answer was simple  " this training session was not compulsory for everyone to attend and that's why he didn't attend it"
Leaving Ajinkya Rahane, Ravindra Jadeja ,Piyush chawla and Parvinder Awana  the rest of the team practiced for more than 2 hours. These players have just represented their teams at the Ranji trophy.
According to our reports the wicket at Jamtha will be dry and because of the heat will remain the same. It is also noticed that the ground staff have stopped pouring water on the wicket.  The curator remained unavailable for any questions has he has been instructed not to give any comment to the media. This is for sure that the pitch won't last for the 5 days and may start to crack.
At the Ahmedabad test the pitch was a spinners paradise and that helped the Indian spinners and Dhoni had asked the remaining curators to prepare a pitch similar to the first test which didn't go well with the masses and he received a lot of criticism for that.
This is the 4th test played here at Jamtha and India have a 2-1 win –loss record  at this stadium. The last time they played here was in the year 2010 against New Zealand which they comfortable won by an innings and 198 runs.
So they countdown begins tomorrow and it is for all to see how well the teams does and in particular the sleeping " tiger" "Ashwin" who later made it to the training session after it had got over .