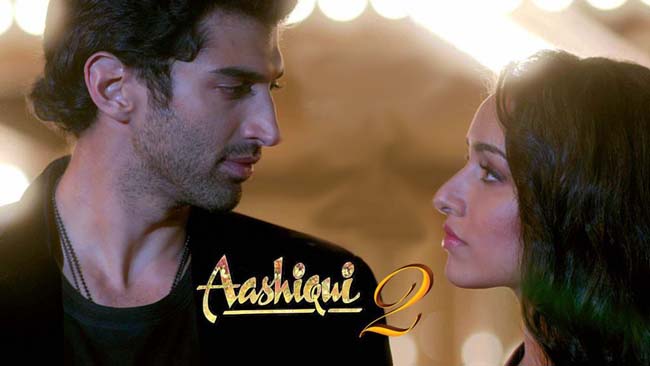 Cast: Aditya Roy Kapoor, Shradha Kapoor
Director: Mohit Suri
Music: Mithoon , Jeet Ganguly , Ankit Tiwari
Plot: The film could easily pass as a documentary for Alcoholics Anonymous!. Surprisingly, the script has kept the love story independent of Rahul's self loathing tendencies. The plot has been written from an enlightened perspective which does understand the necessity of coming of age in terms of ideas. Strikingly, the script writers maintain a strict dichotomy between Rahul's love for Arohi and how he hauntingly bears failure and bruised ego of a yesteryear star, without mixing the two. At no point is the man's love challenged by jealousy but it is his own descent that claws him from within, which the film admirably maintains.
Rahul Jaykar (Aditya Roy Kapur) is a singer fighting his demons, with the help of good pal (Shaad Randhawa). Aarohi Shirke (Shraddha Kapoor) is a girl who worships Lata Mangeshkar and wants to be a singer. For reasons that are never explained, Rahul's constant companion is alcohol. Lots of it. But he is not so soused that he can't spot talent: he hears Aarohi sing in a shady Goa bar, and knows she is the next best thing. And then comes the Abhimaan-like arc, as the two deal with obscurity, fame and heartbreak, and it all becomes mothballed.
Mohit Suri knows how to get lovers to start off the blocks. And the best part of this film is these two trying out each other for size, despite an embarrassing meet-cute. Roy Kapoor shows he has mettle: I was wondering about that after his turns in Action Replayy and Guzaarish, bad films both, but his potential is clear in this one. Kapoor also does a tad better than her earlier outings, but is patchy. The lead couple has a moment or two, but doesn't spark overall.
Aditya Roy Kapur was conspicuously noticeable because of his obvious good looks and an impressive repertoire of past work! I won't paint a flawless picture of him because he too has his weak moments in the film. But, in the mushy scenes, he absolutely scores! He is a potent actor capable of doing much better but sadly the film doesn't use him right.
Shraddha Kapoor has an ounce of childish mirth to her. She looks gorgeous at places. But the woman needs to join an acting school and get down to the basics of emoting with eyes and picking up the right throw of dialogue delivery. At the most poignant instances in the film, she mutters her dialogues robotically with spoon fed neatness.
The soundtrack by Jeet Ganguly, Mithoon, Ankit Tiwari and lyrics by Irshad Kamil and Sanjay Masoomm have been given a modern touch and are as soulful and romantic as they can get. The song – `Tum Hi Ho` – sung by Arijith Singh is the best of the lot.
Aashiqui 2` must be watched only for one reason music.
Verdict: Don't compare it with the old one; it's a new wine in a new bottle with same label.
: Yash raj Trivedi