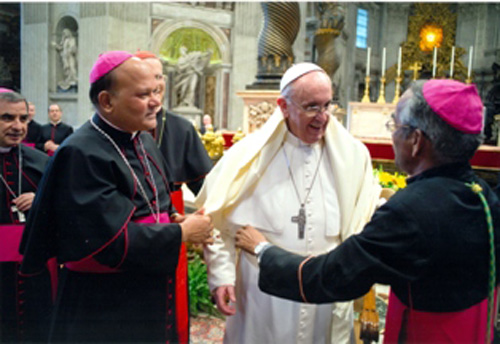 Nagpur News: Archbishop Abraham Viruthakulangara the Archbishop of Nagpur Archdiocese flew to Rome on Monday 18th March to be able to participate in the Solemn Inaugural Ceremony of Pope Francis, held on the feast of St. Joseph, Tuesday 19th March at 9.30 Local time at St. Peter's Square Rome.
It was meticulously arranged Spiritual Exercise (Holy Mass) participated by many Cardinals, Bishops and Priests and thousands of lay people, and people of other Religions. Notably present wee the President of Argentina, President of Italy and nearly 175 heads of Governments from all over the World, including 4 members of Indian delegation.
The ceremony was simple, and he preached the homily centered around the word Custos, meaning Protection . We are protectors Creation, not allowing omens of destruction and death to accompany our world's journey. He called on those who have positions of responsibility in economic, political and social life, and all men and women of good will: let us be protectors of creation, protectors of God's plan inscribed in nature, protectors of one another and of the environment. He made special reference to St. Francis of Assisi whose name he has taken, who was patron of protecting nature and environment.
After the Mass was over, the Heads of some 175 Governments went inside the Basilica of St. Peter to be greet and offer felicitations to the Pope. It took nearly one and half hours. Two Bishops stood by, and finally Archbishop Abraham Viruthakulangara and Bishop Varghese Chakalackal of Calicut were privileged to have personal meeting with the new Pope. Archbishop Abraham put a shawl on His Holiness and explained to him that this is the way that Indians show their respect and love to great spiritual leaders (Acharyaas) We exchanged some words of felicitations and offered him our prayers.
The Pope was taken up by this Indian gesture, and He blessed the people of Nagpur.
Archbishop Abraham Viruthakulangara and Bishop Varghese Chackalackal were probably the first Indian Bishops to greet the new Pope after the inauguration of his Pontificate. Of course the 5 Indian Cardinals would have met him many times before, during, and after Papal elections.
Pope Francis is simple, pastoral loving and human with a heart for poor.