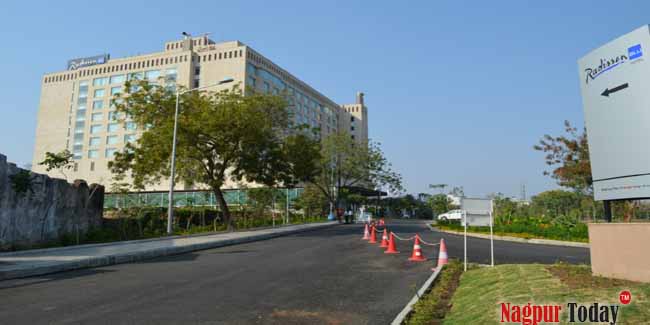 Nagpur News : Taking strong cognizance of the blame game story regarding the approach road to Hotel Radisson Blu, posted on Nagpur Today, the who's who of the society reacted sharply to the whims and fancies with which authorities acted in the matter. One authority claimed onus on the other leaving one to guess whose road is it anyway.
When Nagpur Today approached DCP Traffic Dabhade to comment, he informed that the road belongs to the society but it is NMC which constructed this patch. Dabhade said that the hotel authorities have used cone not the barricades and it cannot be termed illegal either. Till date, nobody has complained in this regard, he quipped.
Maharashtra State Road Development Superintending Engineer said that Hotel Radisson Blu is constructed on sanctioned layout and the road was constructed keeping the laws intact.
NMC Commissioner Shyam Wardhane and city Mayor Anil Sole could not be reached for the comment in this regard.
Nagpur Today sought reactions from various party leaders and office bearers in the city, who have questioned the veracity and legitimacy of the approach road to Hotel Radisson Blu.
(Read previous story here : http://nagpurtoday.in/nagpur-road-scam-is-approach-road-to-hotel-radisson-blu-illegal-officials-turn-ignorant/)
Here's what these people said…
Rajesh Pugalia, District Secretary, Aam Aadmi Party
"The approach road to the Hotel Radisson is totally illegal and has no proper documents. The road is constructed by pure corruption and irregularities by both the BJP and Congress. Who gave permission for the approach road to Hotel Radisson Blu and where are the papers for the same? RTI was filed so as to know the actual malefactor. Without knowing the facts we cannot blame any person right now. Our Aam Aadmi Party will look into the matter and then will apprise common man about the right move."
Hemant Gadkari, MNS leader
"There are many residents in Nagpur who have to cope up with the irony of no approach road to their houses. And now, suddenly a five star hotel hits the city and gets permission so quick for a lavish approach road to their property. Why doesn't NMC act so swiftly in the interest of its citizens? This proves that the whole issue is not legitimate. I will soon take this matter forward.
Jammu Anand, Trade Union activist
"The authorities have two options — either they have to claim the road and show the sanctioned papers or have to take it as an encroachment and act immediately. It needs to be cleared whether the road is on private or public land. Only then can any action can be taken. Hotel Radisson has to take the responsibility or NMC, NIT, who so ever concerned must come in for the approach road. Authorities cannot rub their shoulders off the matter."
Lalsingh Thakur: State Secretary, Manavadhikar Nigrani Samiti
"First investigations have to be completed. Without proper papers and versions we cannot say that the approach road is illegal. If a plan is sanctioned then there has to be a road sanctioned too. Whether the road is legitimate or not will come to the fore only when proper documentation is done. It is likely that the road may have skipped the NIT map. The matter needs to be investigated deeper."