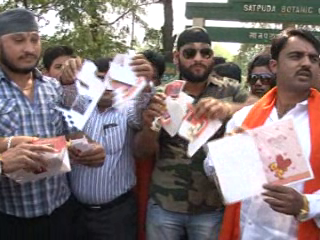 Nagpur News : Come Valentine's Day and the saffron brigade sets out to pour opposition for the red colored celebrations which they term as the 'imported' culture from the open books of the west. This year too Nagpur lovebirds felt fresh fireworks from the conventional protestor Shiv Sena on the eve of the big day.
The party on Wednesday acted as traditional moral police to oppose Valentine's Day tooth and nail. Joining them on were Maharashtra Navnirman Sena and the new entrant in the protesting lobby Bharatiya Janata Yuwa Morcha.
Large number of Shiv Sainiks reached Telangkhedi botanical garden where the maximum concentration of couples remains throughout the year. The protestors burnt the V-day's cards at the entrance gate and moved in to catch the couples. The workers in their signature act took the boys and girls to task and shove them off with a warning.
Shiv Sena leader Sharad Sarode endorsed the Hindu tradition in which there is no custom of practicing such a celebration. He informed that the couples caught in the act at the garden were taken out and politely let off with the strict piece of advice.
Shiv Sena City Chief Suraj Goje however sounded harsh in his views as he warned that those demonstrating vulgarity on Valentine's Day would be punished in Shiv Sena style.
Prem Karo Mann se but don't spread obscenity: MNS
However Maharashtra Navnirman Sena (MNS) took a different perspective of opposing Valentine's Day. MNS leader Hemant Gadkari said that their party supremo Raj Thackeray neither oppose nor supports this practice. But he was wary of the couples going beyond the limits. He quipped, "prem kar mann se (as is the party's abbreviation for MNS in Hindi) dil se na ki ashleelta se" (love from heart but mind not to adopt vulgarity).
Police chief wants peaceful celebration
Nagpur police chief K.K. Pathak also has already sent the message loud and clear that such an 'overboard act' of young boys and girls would be strictly dealt with. Pathak informed that police patrolling would be increased on Futala Lake along with the malls and prominent gardens in the city. However, he expressed no qualm in celebrating Valentine's Day. He cleared that extra vigil will be maintained to ensure peaceful celebration of this special festival of youth.
BJYM plays 'donkey marriage' to oppose Valentine's Day
In its unique way to express their opposition to the Valentine's Day, BJP's youth wing Bharatiya Janata Yuwa Morcha on Wednesday get the pair of donkeys and solemnize their marriage as a symbol of protest. The workers gathered before Inox multiplex and put the donkeys in place. BJYM activists Ankush There said that such a celebration could not be accepted in Hindu culture at any cost.