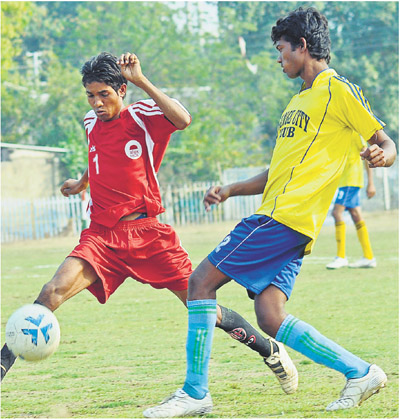 Nagpur News : MOIL XI overcame Orange City 4-2 via tie-breaker in All-India Loco Soccer Football Tournament organised by Central Railway Institute at Ajni ground on Wednesday.
MOIL XI were leading by 1-0 in the first half. Kishor Kathate scored excellent goal surprising the rival defenders. After facing goal Orange City too intensified their attacks. As a result in the 65th minute Sachin Bhagat levelled the score. However during the remaining time both the teams even after making lot of efforts failed to break a deadlock. In the penalty shootout, Tulsiram Uikey, Kishor Kathate, Avinash Rawat and Anna Uikey perfectly scored the goals. For Orange City, Suraj Bejani and Adnan Khan capitalised on the the opportunities while Sachin Bhagat and Yogesh Uikey missed the chances.
Thursday's fixtures: Guard Regiment vs Shakti Sporting at 12.30 p.m.; Big Ben Satvik vs Rahul Brothers at 2 p.m.; SE Railway vs Gondwana Club at 4 p.m.