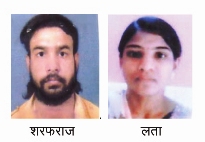 Nagpur News : Sarfaraz Alam Sultan Alam (31), a resident of Gausiya Colony, Sarwashri Nagar, went missing since July 11, 2011. He is wheatish in colour having black hairs and around 5'4'' in height. He is acquainted with only Hindi language. He left the house on July 11, 2011 on the pretext of some work. When he didn't come back home, his family members started his search. They lodged a missing complaint with the police.
In another similar case, a 25-year-old young girl Lata alias Rakhi Rakesh Ninawe, a resident of Plot No. 105, Patil layout, Yashodhara Nagar, went missing from the area since December 21, 2012. She is wheatish in colour and is around 4'3'' in height. She has long black hairs. She knows Hindi and Marathi languages. Her family members filed a missing complaint with Yashodhara Police Station when she didn't come back home.
Nagpur police have appealed the citizens to inform them on 100 if anyone has seen and knows anything about these missing people.