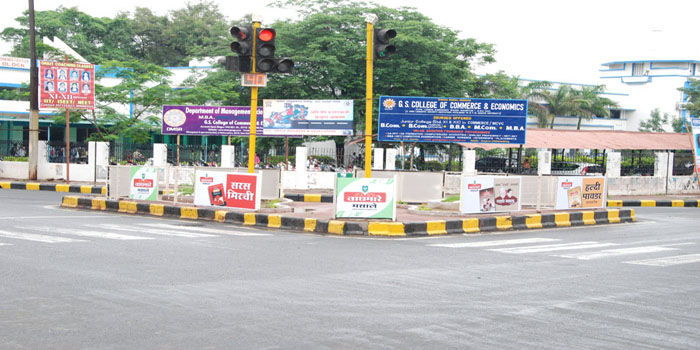 Nagpur News: The First Finder System in NMC has been controversial since it came into being. For this reason few former NMC Commissioners have revoked the system in Nagpur. But, sources revealed that the serving Commissioner Shyam Wardhane is taming the intention to bring it back. The file has been reached to Commissioner but sensing the alert, Wardhane reportedly put the process on hold till the matter gets cooled down. Then as per the planned strategy work orders would be issued.
Insiders informed Nagpur Today that a former zone chairman of NMC along with his associate advertising agency Mirage had placed the proposal under First Finder System before the then NMC chief Sanjeev Jaiswal. As per the proposal, it was offered to install hoarding stands on maximum number of squares and high visibility spots on BOT basis. The chairman assured good revenue for NMC while ascertaining 'heavy incomings' on his part.
On the contrary, Jaiswal threw aside their plans and wished for taking out tenders for the same. Consequently, the contract went to another ad agency Sell Ads. Interestingly, NMC has not yet provided permission to Sell Ads to commence the work.
Insiders alleged that the former zone chairman has now offered to get the work order to Mirage in return for kickbacks that run in lakhs of rupees. It is being alleged that due to the same reason the Commissioner has been lured into blocking the process to issue work order to Sell Ads.
Mirage has also been allegedly asked to re-submit the proposal under First Finder System while the company which bagged the tender was made to deposit half the tender price. Highly placed sources informed that entire process is being secretly carried out. The chief accountant has already approved the proposal and the file with his signature reached commissioner's table.  Once the commissioner clears it, there would not be a problem to get it approved by the standing committee.
Sources hint at another scam in the making for this tender allocation process in the name of First Finder System.
Recently a ruling party leader had made his views public about the irregularities in the tender process under First Finder System. He also demanded NMC Commissioner to apply a check on the dubious activities.
However, it remains to be seen that in which direction NMC Commissioner would move.