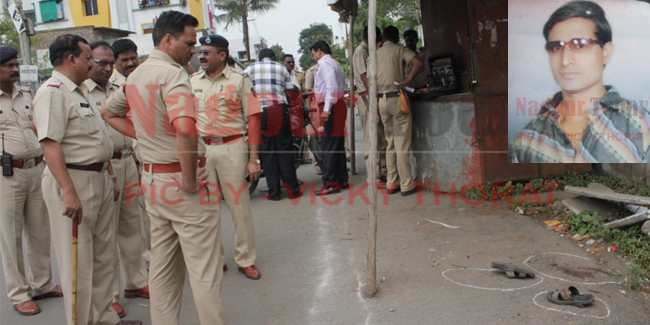 Nagpur News.
Series of brutal murders from the past few days in various parts of the city have shocked the Nagpurians. People of Nandanvan area witnessed another bloodbath near Panchvati Ashram, Umrer Road, near Bada Tajbaug on Tuesday afternoon when a youth stabbed another youth and ran away. The murder, which took place at around 12.40 pm Tuesday afternoon, was the outcome of an old rivalry, the police said. Police have arrested the killer who has confessed to his deed.
The deceased, identified as Vijay Suresh Gaikwad (28), was a resident of 581, Chitnis Nagar, owned a pan kiosk near Panchavati Ashram at Umrer Road. And the accused has been identified as Vinod Ramkrishna Bokle (30), also a resident of Chitnis Nagar.
According to information, the accused Vinod Bokle had a verbal fight with one Raut on October 1, this year at his pan kiosk. Bokle intervened and called the police to settle the issue. However, fights and arguments started between Bokle and Gaikwad over this matter.  An argument also cropped up on Monday night after which Vinod and Vijay threatened to kill each other.
Both were raging with anger and were looking for a chance to take their revenge. On Tuesday afternoon, Vijay left his house to open his pan kiosk. At around 12.40 pm, Vinod came to the pan kiosk and without any warning or argument started stabbing Vijay on his stomach, head and chest resulting in the instant death of Vijay. Vinod immediately fled away from the spot before anyone could catch him.
Panic and fear gripped the area after witnessing this bloody turn of events. People informed Nandanvan Police Station who immediately rushed to the scene and performed the panchanama and sent the body to Government Medical College and Hospital for post mortem. Police later launched a search for the killer.
Meanwhile, Vinod reached Kishore Mumerai's office and confessed to his deed. Kumeria immediately called the police and handed over the killer to them. During investigations, Vinod confessed his crime and informed the cops that he was frustrated with the daily fights and wanted to put an end to this and thus killed Vijay in a fit of rage.
Cops slapped charges of murder under Section 302 of the IPC against Vinod and are further investigating the case.
The arrest was made by PI Wadile, PSI Sunaone, Head Constables Shailesh Thawre and Rakesh Lohit.