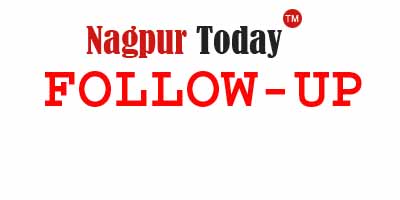 Nagpur News: After successfully unearthing the country-made pistol used in the shoot out at Shanti Nagar, Lakadganj police, on Sunday, finally arrested the 'wanted' accused Tirupati Bhoge in a very dramatic style. Police who were chasing Tirupati for over 4 km, finally got a hold on him when he started panted because of excessive running.
Within 2 hours of Tirupati's arrest, police were successful in arresting another accused Nitin alias Kalya Gutke. Revealing the dramatic chase, police said that their sources informed them that Tirpuati was hiding in juni basti near Butibori with his wife. Gittikhadan Police team led by PI Arvind Parulekar, immediately besieged his place. On seeing police approaching, Tirupati ran away on his bike with his wife. Police vehicle started chasing him, but after a chase of 2 km, Tirupati's bike skid and he fell off. Police quickly got hold of his wife but Tirupati started running. After running for over 2 km, he started panted due to excessive running and finally police arrested him.
Police had arrested another main accused, Wasim, but Tirupati was absconding and was hiding in various places of Ganeshtekdi, Jaripatka etc with the help of local residents.
It is to be noted that police have arrested 21 people in connection of the Shanti Nagar shoot out in which two bystanders sustained bullet injuries.