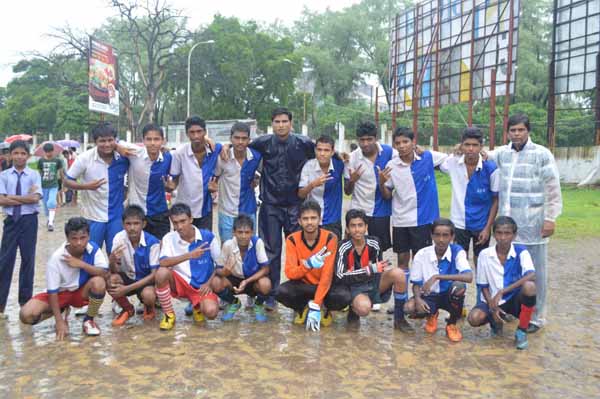 Nagpur News: Anjuman High School made a clean sweep of St Xavier, Hiwri Nagar with a margin of 3-0 in a one-sided and dull match of City Football Under-17 (Boys) tournament.
1st match : Anjuman HS 3( Saif Athar 6th min, Irshad Ahmad 28th min, Mohd. Kafeel 34th min ) beat St. Xavier Hiwrinagar 0.
2nd match : Bhawan's Civil lines win Saraswati Vidyalaya did't turn up on schedule time.
3rd match : SFS Jr. College Seminary hills 2(Hitesh Harode 20th min, Savio Hillary 31st min) beat CPS Katol road 1(Areeb Ahmad 34th min)
4th match : Guru Nanak HS beat BCS via tie- breaker 4-3
Regular time :0-0
Tie-breaker : GNHS4(Mubashshir, Ahfazuddin, Anshul, Yarpal) ; BCS 3( Akshay Mayur,Niraj Dung, Lavpreet Singh)
5th match : St. Vincent Pallotti 4( Azhar khan 4th min, Giftson Saji 6,30,36th min) beat St. Joseph Jaitala 0.
6th match : Qidwai HS beat CPS Wardhman nagar via tie-breaker 5-3
Regular time : 0-0
Tie-breaker : Qidwai 5( Md. Affan , Kashif Ansari , Mohd. Yusuf , Mohd. Nayeem , Mohd. Shahid) ; cps ( Shubhang Pawar, Darshan Shette, Faizan Sheikh)
7th match : Nagpur Residential HS beat Bhola HS via TB 4-1
Regular time :0-0
Tie-breaker : NRHS 4(Gaurav Singh , Anish Suryawanshi , Yash Sontake , Gaurav Rangari) ; Bhola 1(Mohd. Asif)
8th match : st. Michael HS 3( Rajeshwar Ragde3rd min , Stanly Peter 16th min , Mihir Nayak 35th min) beat MAK Azad HG 0.
Suburb ( Gramin) Football
Under-14(boys )
1st semifinal match : M. M. Rabbani HS 5(Ashrul Hafeez 5 ,7,12,27,29th min) beat Bhawan Ashti 0.
2nd SF : St Ann's beat K John Saoner via tie breaker 3-2
Regular time : 0-0
Tie-breaker : st. Ann's 3( Nishkarsh Bagde, Rahul Bharadwaj , Kundan Kakde) ; K John 2( Novel Thakre, Kailash Khade)
Note : 1.Tomorrow girls Final on st. Ursula ground 9.00 & 10.00AM
2. Boys suburb(gramin) Final 27-7-2013 on BCS ground 10.00 AM & 9.00am hard line (third place) match.