The firebrand Aam Aadmi Party leader inaugurated party's new District Central office on Friday in Orange City.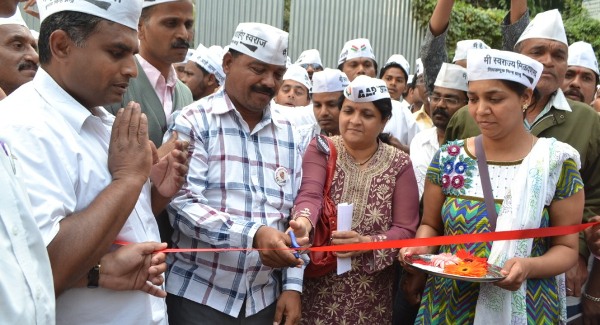 Nagpur News.
Aam Aadmi Party's Maharashtra state Convenor Anjali Damania is on two days visit to Nagpur to attend various events in the city. She started her day by meeting with the Nagpur District Executive along with Executive Committees of all Assembly blocks and Talukas in Nagpur District. In an emotional address to members, she touched the hearts of all present when she talked about the immense support she had received from her family and children during her own personal journey in the last two years of this battle against corruption.
Anjali inaugurated the party's new District Central office today at 3:30pm. The office, located at Bhivapurkar Marg in front of Dhantoli Garden gate, Dhantoli has been donated by local businessman Rahul Kejriwal to be used for the party's Lok Sabha campaign. After a brief ribbon cutting ceremony, she entered the office grounds to the rousing cheers of more than 1000 AAP Nagpur volunteers. Volunteers were entertained by a brief street play performed by the AAP South Nagpur team, after which District Secretary Rajesh Pugalia welcomed several new entrants into the party. Harish Dikondwar, Independent NMC corporator of prabhag 44 joined the party today and announced his resolve to empower citizens of prabhag 44 to decide the expenditure of their Corporator fund, through mohalla sabhas. He said that he was motivated by AAP's ideals of honesty and transparency, and will start holding mohalla sabhas in his area of prabhag 44 from next week itself. Expenditure of funds will take place in accordance with the wishes and consent of area residents, instead of someone's arbitrary decisions.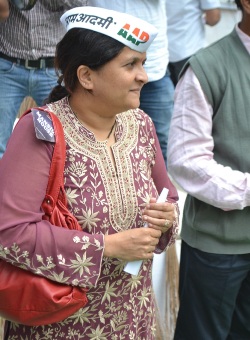 Others joining AAP today included world's shortest woman  Jyoti Amage, along with her entire family, Senior Reporter Avinash ji, Alim Mahajan – District President of the Akhil Bharatiya Patrakar Sangh, Dr. Sayyad Jaffari, Shri Marotrao Gorlewar – former National President of the Rashtravadi Janata Party, Dr. Mahendra Savarkar, President of Snehi Medical welfare Association, Nana Thakare of Gramin Congress, Social worker Bhagwandas Rathi, Siddharth Patil, ex-servicemen Ramsingh Khatri, Janardhan Moon of the Nagari Hakk Sanrakshan Manch, Devendra Singh Thakur, working President of the Military ex-servicemen's welfare association, Kamthi, Gajanan Bhoral, Sarvajeet Chahande, and Shuddhodan Lokhande.
Pugalia added that AAP was the only ray of hope for millions of our countrymen whose lives and hopes have been stifled by the rampant corruption in our country. He recalled that the last such occasion when the populace of our nation had organized itself against feudal oppression was 36 years ago, and that if we let go of this golden opportunity to change our country for the better, it may be another 30 years before another arises.  He therefore exhorted every citizen of India to sacrifice everything that they could to ensure success in this battle to cleanse our political system.
Following an introductory speech by District Convenor Devendra Wankhade, Anjali Damania threw down the gauntlet to Gadkari and all other established political parties in Maharashtra. She specially challenged  Nitin Gadkari to fight Lok Sabha elections from Nagpur and not run away to Indore or anywhere else. She said that any Aam Aadmi with integrity from Nagpur can contest and easily win against him. She described how shaky the ground beneath the feet of established political parties had become after AAP's electoral victory in Delhi. Their statements against AAP are demonstrations of AAP's growing strength and their own weaknesses. She took on so-called leaders of BJP, Congress, SS, NCP, and MNS, criticizing them left right and center. She talked of the Irrigation and PWD scams in Maharashtra, where the amounts embezzled run into lakhs of crores, and every single established political party is involved. In a backhanded comment, Anjali even said that since all other political parties are increasingly looking to AAP to learn politics, AAP's responsibility is correspondingly greater.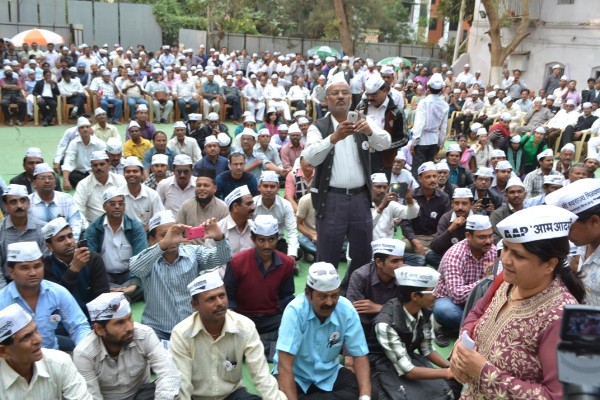 The program suffered a brief disturbance when some unknown individuals – who later refused to identify themselves even to members of the press, started distributing some inflammatory pamphlets. They were escorted out of premises by our Volunteers, after which the program continued without incident. A bag identified as belonging to one of the perpetrators and containing inflammatory materials was also discovered later and handed over to Dhantoli police.  Talking about the disturbance, Anjali said that it was not AAP's culture to react to such attempts at provocation and that even someone expressing contrary views should be tolerated as long as they do so peacefully and lawfully.