Anjali Damania arrives with a bang, files plaint against BJP MP Sancheti for "fraud & forgery"

In her complaint to the Economic Offenses Wing (EoW) of Nagpur City Police, against Ajay Sancheti and his associates, Damania said, "I learned from various newspaper reports from around December 2010 about the forgery and cheating committed by the BJP MP Ajay Sancheti in procurement of Vidarbha Irrigation Development Corporation (VIDC)  contracts. Further information and documents purported to be obtained under RTI Act has been obtained from informants and copies of the same are attached. Based on the attached documents, the matter appears to be that VIDC had a rule in operation from Sept 8, 2006 to Aug 24, 2010 under which no contractor could take up more than three contracts at a time. However, Sancheti and his associates pocketed many contracts by way of cheating and forgery."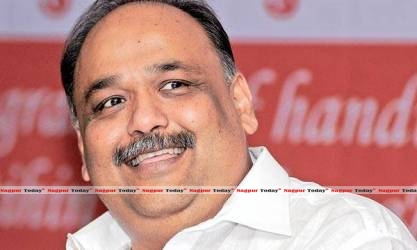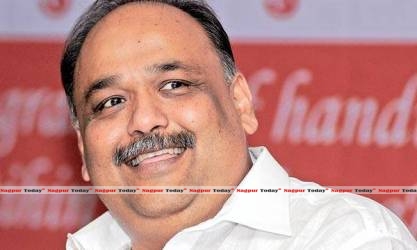 Nagpur News.
The ecstatic Anjali Damania, an anti corruption crusader and leader of Aam Aadmi Party (AAP), who has been nominated to contest Nagpur Lok Sabha seat, arrived in the city to a grand welcome accorded by the party leaders and volunteers. And the firebrand leader fired a booming salvo against the BJP Rajya Sabha Member Ajay Sancheti and his associates as soon as she touched the city.
Anjali Damania, who is also Maharashtra Convener of AAP, straightaway headed to the office of Deputy Commissioner of Police Kolhe to register a police complaint against Ajay Sancheti and his associates for alleged cheating and forgery in procuring irrigation contracts from the Vidarbha Irrigation Development Corporation (VIDC). The DCP Kolhe, after consulting the Commissioner of Police K K Pathak and Joint Commissioner of Police Sanjay Saxena, decided to register only a preliminary inquiry at present, claiming that additional documents were needed from VIDC and other offices before they could register an FIR.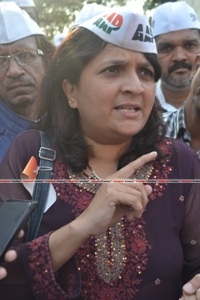 However, Anjali Damania, apprehending that the matter could be shelved under political pressure, insisted that any preliminary inquiry be conducted in a time bound manner. The Joint CP Saxena assured that they will try to get the necessary documents from VIDC within two days.
In her complaint to the Economic Offenses Wing (EoW) of Nagpur City Police, against Ajay Sancheti and his associates, Damania said, "I learned from various newspaper reports from around December 2010 about the forgery and cheating committed by the BJP MP Shri Ajay Sancheti in procurement of VIDC contracts. Further information and documents purported to be obtained under RTI Act has been obtained from informants and copies of the same are attached," Anjali said.
The complaint further said, "Based on the attached documents, the matter appears to be that Vidarbha Irrigation Development Corporation (VIDC) had a rule in operation from Sept 8, 2006 to Aug 24, 2010 under which no contractor could take up more than three contracts at a time. Sancheti's company, which was originally named Shaktikumar M Sancheti Ltd, changed its name to SMS Infrastructure Limited w.e.f. Nov 28, 2005. It appears that the company applied to VIDC on Sept 25, 2006 to renew its Enrollment Certificate No. 1083. Amazingly, it seems, Sancheti managed to procure two separate Enrollment Certificates from VIDC after this, both numbered 1083 — one under the old name of Shaktikumar M Sancheti Ltd and the other in the new name of SMS Infrastructure Ltd," the AAP leader said.
"As disclosed by attached documents, Ajay Sancheti, in collusion with Anand Sancheti, Jigar P Thakkar alias Dattani, Vishal P Thakkar alias Dattani and others, continued to bid for and obtain contracts from VIDC under both the old as well as new company names and thus circumventing the three-works maximum rule. Sancheti appears to have obtained these VIDC contracts through joint venture firms formed with SN Thakker Construction Pvt Ltd or D Thakkar Constructions Pvt Ltd which are sister concerns of each other with 50% directors in common. After the change of name to SMS Infrastructure Ltd, there was no such company named Shaktikumar M Sancheti Ltd in existence. Therefore, every document prepared in the name of non-existent company Shaktikumar M Sancheti Ltd after the change of name by Ajay Sancheti is a forged document, created with the intention of misleading VIDC into granting them more contracts than they were eligible for. Specifically, each JV agreement, each application to registrar of firms to register such JV agreement, as well as each tender form, tender book, etc. signed by Ajay Sancheti in the name of Shaktikumar M Sancheti Ltd after the change of name constitutes a separate instance of forgery. An example of such a forged document is the JV partnership deed executed on May 7, 2007, which is attached," Anjali Damania stated.
"Karyalayeen Tippanis of VIDC as well as the list of works allotted to Sancheti's Company under both its correct as well as fraudulent name shows that they were successful in this ploy. Offense is therefore made out against Sancheti under Section 420 read with section 468 of the IPC. Further offenses are also made out under Section 177 of the IPC and all of these offenses are also made out against his associates when read with Section 120B of IPC. You are requested to investigate the matter after duly verifying the authenticity of attached documents and to take action against those found guilty of violating the law forthwith," the Lok Sabha candidate of AAP for Nagpur seat said.