ISA CME-2013 Nagpur gets underway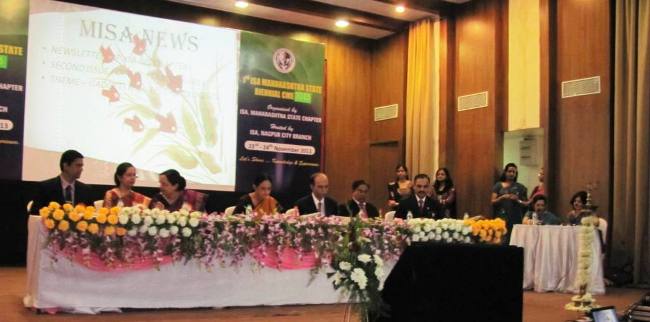 Nagpur News.
"Anesthetists are Behind the screen artists" said Dr. Rani Bang while delivering the Guest Lecture during the inaugural ceremony of 1st ISA Maharashtra State Biennial CME-2013, which got underway in the city at IMA Auditorium on November 23, 2013.
The Chief Guest, Founder of SEARCH in Gadchiroli, winner of the prestigious Maharashtra Bhushan Award and Renowned Gynecologist Dr. Rani Bang said that Anesthetists plays a very vital role in the medical field. She said that she is very happy with the newer developments and the way budding Anesthetists perform very varied and complicated operations using their skills. Above all what touched her was the sensitivity shown by Anesthetists. This has increased her respect towards these professionals to a great extent. She added that today, the people in the country have become mere mute spectators over crime, pollution, corruption and various other illegal occurrences which is on the rise every day. But instead of fighting it out and raising our voices against it, we have become mute spectators like a patient who has been anaesthetized.
Dr. Bang said that since Anesthetists have no ulterior motives nor are corrupt, the role should not end there. They should take active part in the fight against corruption in the medical fraternity.
The increasing incidents of cases getting registered under Criminal Negligence of Doctors, Doctors being manhandled or beaten up etc are danger signals.  If corrective action is not taken now, things could go bad, she opined.
However she dwelt with vehemence on one of the major needs in the medical fraternity especially in the rural areas. She said that there is a severe shortage of Anesthetists in civil hospitals like NRHM. So much so that many have to be called from as far as from Nagpur even for a small surgery like Caesarean operation for delivery of babies. Anesthetists should come forward and must reach out to maximum places especially the rural areas since there is a need of Anesthetists in rural society.
She also added that as a part of the society, we should be actively involved in removing the evils in the society. We should start with removing and fighting all such social evils which we see or know, be it at the place of our work or our residence. She also mentioned that like we light a small earthen lamp to dispense the darkness, we should fight against injustice and evils of the society. She urged all Anesthetists that they should help in the development of society and said that our education should be used to fulfill our social responsibilities.
"The two-day academic meet, based on the theme 'Let's share knowledge and experience', includes scientific sessions covering areas of Clinical Anesthesia in day-to-day practice. Around 400 delegates from all over Maharashtra are attending the sessions of CME. MMC has allotted 4 credit points for delegates of this CME.
The first day sessions included various lectures. The prominent ones were "Interaoperative dysarrhythmia", Early diagnosis of organ dysfunction, Late R.K Pradhan Oration, CBL Session on "The patient in septic shock requiring surgery" and Regional Anasesthesia. These were delivered by several Nationally acclaimed faculties such as Dr. Indrani Kumar from Mumbai, Dr. B.D Bande from Pune, Dr. Deepak Tempe from New Delhi, Dr.Vijaya Patil from Mumbai and Dr. Pratibha Deshmukh from Nagpur respectively.
The most important session was Late Dr R K Pradhan Memorial Oration delivered by New Delhi-based Eminent Cardiac Anesthesiologist, Dr Deepak Tempe on the topic 'Introduction to Trans-Esophageal Echocardiography (TEE)'
The inauguration ceremony was commenced by the lightning of traditional lamp by Dr. Rani Bang. An introductory remark was given by President ISA Nagpur Dr. Charuta Gadkari. Presidential address was given by President MSCISA Dr. Satish Deshpande.
Release of MISANEWS and e-Souvenir was done at the hands of Dr Rani Bang, Dr. Charuta Gadkari, Dr Satish Deshpande, Hitendra Mahajan and Dr. Saurabh Barde. Lastly, the vote of thanks proposed by Organizing Secretary ISA, Dr. Saurabh Barde.