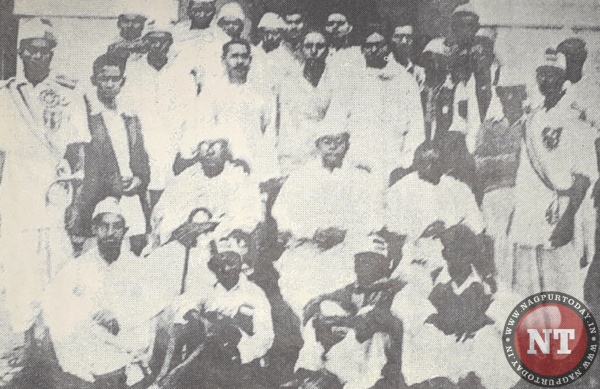 We own our country's independence to the enormous sacrifices of revolutionaries. Netaji Subhash Chandra Bose was one of the most prominent freedom fighters in this struggle who fought to liberate our country from foreign tyranny. In his mission, he was ably assisted by great revolutionaries, whose achievements were perhaps equally unparalleled. One such freedom fighter was Late Atul Chandra Kumar.
Soumyajit Thakur, a teacher from Nagpur and a family member of the freedom fighter throws light on his immense contributions to the nation during the freedom movement and afterwards.
Atul babu was born on 5th April 1905 to educationist Dinanath Kumar and Katyayani Devi, at Araidanga, Malda. Displaying leadership qualities right from childhood itself, he actively participated in Mahatma Gandhi's non-cooperation movement in 1921. After matriculation, he joined the Krishnanath College in Berhampur, where he established a student's union and served as its secretary. In this capacity, he invited leaders like Sarojini Naidu and Chittaranjan Das to install patriotism among students. In retaliation for the then Bengal Governor Stanley Jackson's anti India remarks, he threw shoes at him in an event at Berhampur. For this, he suffered rustication and had to complete his education from another institution, Bangabashi College in Kolkata in the subject of law.
He thereafter served as the assistant secretary of the All Bengal Student's Union and established the Dinanath Bholanath Model Academy School in Araidanga in 1928, which greatly helped in the spread of modern education in such a remote area. In 1930, he led the salt satyagraha movement and was again imprisoned for one year. After release, he organised student's movements against the Simon Commission. Thereafter he worked in the Malda District Congress Committee and was jailed in Faridpur (now in Bangladesh) for spearheading civil disobedience activities. Fearing public demonstrations, the government released him. But he was soon re-imprisoned for many years and was released only in 1936. During jail term,he was extensively tortured by the British to know the whereabouts of Netaji Subhash Chandra Bose and other revolutionaries, but he never revealed anything.
From 1937 to 1946, he served as a member of the Bengal Assembly. During 1938-39, he enabled Netaji 's election as president of the Haripura and Tripuri Congress sessions and arranged his visit to Malda. In August 1938, he was instrumental in sending a delegation of doctors and leaders to China as a token of the Indian National Congress's support to Chinese citizens during the Sino-Japanese war. During 1942-43, as an important member in the ministries of AK Fazlul Haque and thereafter Khwaja Nazimuddin, he carried out many important assignments and along with Haque and Sarat Chandra Bose, foiled Jinnah's nefarious designs to create religious polarisation and prevented the communalisation of the education sector in India.
In October 1943, Netaji sent T.K. Rao of Madras from the Burma front, in a Japanese submarine to the Kathiawar coast to give important instructions to Atul Babu and his colleagues. As his colleagues got arrested, only Atul Babu was able to carry out Netaji's instructions. With Netaji fading away from the Indian political scenario in the late 1940's, he became inclined more towards social service. On the humanitarian front too, Atul babu contributed immensely. He loved the people of Bengal very much and greatly relieved them during disasters like floods and famine. With just a handful of associates, he used to dangerously sail through floodwaters and saved many lives. In the late 1950's he left the Congress and joined C Rajagopalachari's Swatantra Party. Under the instructions of Maharaja Kameshwar Singh of Darbhanga, he co-authored and presented the book 'Mithila in India' to USSR Leaders Nikolai Bulganin and Nikita Khrushchev during their state visit to India in 1955. During Acharya Vinoba Bhave's 1962 Malda visit, he coordinated his meetings and activities. In his later life he also took up the cause of tenants oppressed by powerful landlords and ensured that justice was done to them.
This great son of Bharat Mata passed away on 16th September 1967 in Kolkata. He believed in the Philosophy 'You live once only but if you live right, once is enough'. In recognition of his contributions, the West Bengal government named the Mokdumpur market in Malda as 'Atul market'. Being his grandson, Soumyajit feels privileged and considers some rare letters, audio records and photographs of Netaji and Atul Babu, which are in his possession, as his prized belongings. He sincerely emulates his teachings and is himself striving to render significant contribution to society.