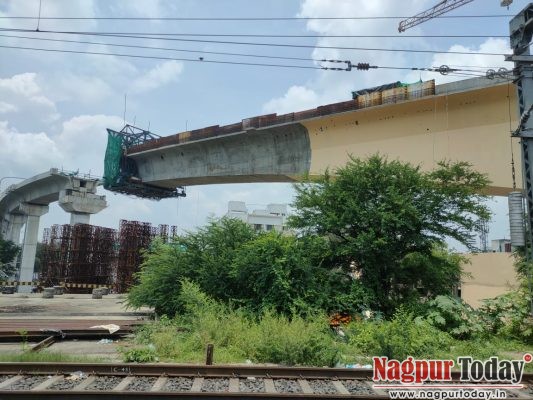 Nagpur: The balanced cantilever over railway line near Anand Talkies, Sitabuldi, is nearing completion with work over the railway line over. Now only the ends are left and railway blocks are not required for completing them. The cantilever is part of Reach IV (Sitabuldi to Prajapati Nagar) of Nagpur Metro between Sitabuldi and Cotton Market stations.
The crossing of metro viaduct over railway tracks has always been a challenging task for Maha Metro considering the fact that Nagpur Junction is one of the busiest railway stations in the country. However, with due preparedness and commitment towards completing the work within deadline, Maha Metro devised an optimum solution for the crossing.
After detailed discussions with railway authorities, consultants and experts and after carrying out site inspection and feasibility survey, a balanced cantilever bridge was found to be the optimal solution in terms of construction, safety as well as cost.
Balanced cantilever bridge is also popularly known as cantilever construction bridge (CLC Bridge). The basic principle behind this method is to attach the segment in an alternate manner at opposite ends of the cantilever supported by piers. The segments are cast using the form traveller.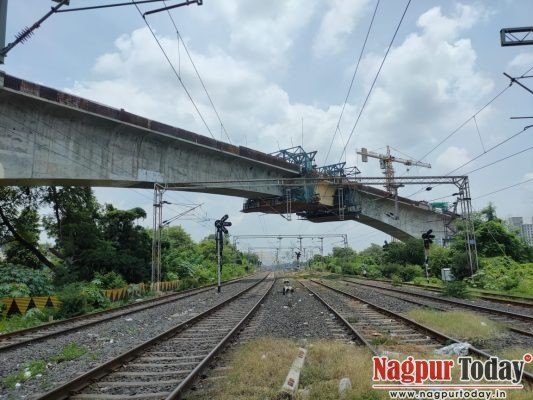 The cantilever near Anand Talkies has a length of 231.2 metre. The construction work was carried out during railway block hours as per approved plan of Central Railway when train movement was restricted.
Usually, railway blocks permitted by Indian Railways is of maximum 3 hours duration. The blocks are usually granted during night when frequency of train movement is lesser. Maha Metro has so far completed about 90% civil work without any hindrance to railway traffic.
The construction of the cantilever was started in October 2019. Maha Metro took all precautions in view of the Covid-19 pandemic and will complete the work as per schedule.