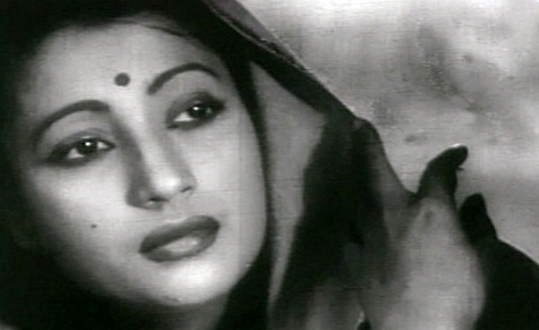 The legendary actress Suchitra Sen who transported the Bengali cinema to the bold new showbiz at the age of 21 in 1953 breathed her last in a Kolkata hospital. At the age of 83, she is no more. She has been ailing for the past few months and the massive cardiac arrest was reported to be the reason of her death.
Over the past three decades since she quit doing films, Suchitra Sen led the life of a recluse, and never seen in public. Her family also did not want her death to be publicised. Showing respect to that wish, neither the doctors attending on her, or the hospital authorities, would comment on the death of Sen.
However the word went out unofficially that the actress is no more and all television channels began airing the news, and film veterans also started offering condolences.
West Bengal chief minister Mamata Banerjee rushed to the hospital as the news of her death broke.
"An era has ended," remarked veteran actress and film director Aparna Sen.
"Her death marks a great loss to Bengali films. I pray so that her family can overcome the grief," said Biswajit Chatterjee, himself a star of Bengali films and a contemporary of Sen.
"None had the ability to step in her shoes," commented veteran actor Dipankar Dey.
"Her works will live with us forever," said Madhabi Mukherjee, one of the finest actresses of Bengali films and a favourite of Satyajit Ray.
She was admitted to Belle Vue Clinic on December 23 with severe lung infection. Sen is survived by her daughter Mummun and two granddaughters, Raima and Riya Sen.
During the past 26 days, she has been frequently in and out of the danger zone. Chief minister Mamata Banerjee visited her seven times over the past few days.
Life of the legend
Suchitra Sen did not want to be an actor, she was forced to. The story goes that egged on by her husband Dibanath Sen, when she finally took the plunge, she was rejected. Perhaps, that's what fired her ambition.
And for the next two decades, she dominated Bengali cinema with her mesmerising smile, dignified bearing and wide repertoire. It was not an easy task, given that her contemporaries — Sabitri Chatterjee and Supriya Devi to name a few — were extremely versatile, each with their own distinctive appeal.
But Suchitra Sen was undoubtedly the queen of the box-office. People loved her pairing with the lead actor of the time, Uttam Kumar. Together they acted in one iconic film after another: Sare Chuattor, Saptapadi, Harano Shur, Pothe Holo Deri, Agnipariksha…
She refused roles offered by two stalwarts of Indian cinema, Satyajit Ray and Raj Kapoor. The first, because Ray wanted her to act exclusively in his film and she didn't want to disappoint the directors who made her the star that she was.
The second, because she was annoyed with the manner in which Kapoor had approached her. It is said Kapoor sat on the floor near her foot, when he cameto meet her at her Kolkata residence, and presented her with a bouquet of roses while offering the lead role. She also instructed producers that her name should appear before Uttam Kumar's in film posters.
"Suchitra could create an illusion of defiance without actually interrogating the patriarchal norms," said film academic Sanjay Mukhopadhyay, who teaches film studies at Jadavpur University in Kolkata.
For all her professional success, her marital life was on the rocks, but the consummate actress weaved her experiences into some of the roles she essayed.
She was shooting for Saat Pakey Badha, co-starring Soumitra Chatterjee in 1963, when her married life was going through its worst phase. But, she gave her best in this film and went on to win the best actress award for her role at the Moscow film festival. She was the first Indian actress to win an international award.
From being someone so widely popular and so very visible, Suchitra Sen went to the other extreme post-retirement. She was never seen at public functions and no photographs of the ageing star appeared in newspapers; no magazine or newspaper ever got an interview. She lived her retired life the way she had worked — completely on her own terms.