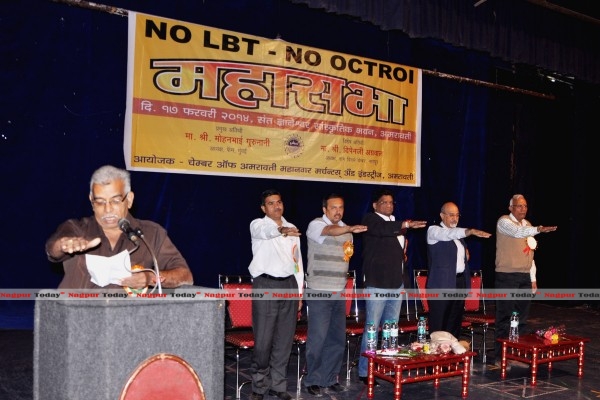 Amravati  News : Chamber of Amravati Mahanagar Merchants & Industries, Amravati organized a "Mahasabha" of traders of Amravati on Tuesday the 17th Feb. 2014 at Sanskrutick Sabhagruh, Amravati which was well attended by over 2000 traders from 53 different associations.
Mohan Gurnani, President Federation of Association of Maharashtra, & Dipen Agrawal, President Nag Vidarbha Chamber of Commerce, Nagpur were Chief Guests on the occasion.
Suresh Jain, President, Chamber of Amravati Mahanagar Merchants & Industries welcomed the guests and requested them to enlighten the problems arising on accent & imposition of Local Body Tax (LBT) imposed by the Government of Maharashtra in 25 corporations of the State till 1st April, 2013.
Mohan Gurnani, President, FAM while addressing the traders said that since the imposition of L.B.T. in the State, the traders & general public are experiencing hardships due the harsh Rules and regulations of L.B.T. FAM and Trade Associations of various cities where LBT has been imposed have protested against LBT but the Government has not the considered the demand of withdrawal of LBT. Hence, it has been decided to organize a Mahasabha of all Traders Maharashtra on Friday the 21st February 2014 at 2.00 p.m. at Azad Maidan Mumbai and show the resentment against imposition of LBT.
He appealed the members of trading community of Amravati to participate in the Mahasabha and demand withdrawal of LBT.
Dipen Agrawal, President, NVCC while addressing the trading community of Amravati said that since the imposition of LBT in Nagpur City the officers of Nagpur Municipal Corporation are harassing the traders for various reasons, and raiding the shops & godowns with the result the business would be ruined.
He also said that the Union Government has passed the Bill of FDI in Retail Trade which is unlawful & unjustified to the businessmen, while criticizing the policies of Central & States Government he appealed to the gathering to sacrifice their 36 hours of trade and thus to attend the Maha Sabha at any cost, without fail.
He further added, As you all know, that FAM is fighting against the Government to prevent the implementation of LBT & removal of Octroi since almost the past one year. But unfortunately, the efforts taken by FAM till date have not derived the desired results due to the lack of unity among us (traders).
The only purpose of calling this Maha Sabha is to show our strength to the Government who is turning a blind eye to our agitation and a deaf year to our voices (protest). I hereby heartiestly once again request all my friends and fellow traders to be present in the Maha Sabha as the war is ours and we only have to win it on our strength. Still time is in our hands as LBT has been implemented in entire Maharashtra, except Mumbai and the government is in the process of implementing LBT in Mumbai as sooner as possible, but is just waiting for the coming Lok Sabha elections to get over, in order to save it's vote bank. So, my dear friends wake up from sleep before it is too late, otherwise the worst paralysis known as "LBT" will hit us in such a terrific manner that never in future, we will be able to get up. Brothers, we all are business people and have business brains since birth. So, it is not necessary for me to tell you that our coming generations will be ashamed of us, if today, at this point of judgment day, we don't stand united and show our strength to the government who does not understands any language, except the language of votes and treats us as it's "VOTE BANK". This is the perfect time, with Lok Sabha elections to be held very soon, it is the best opportunity for us to create pressure on the government and compel the government to abolish LBT & Octroi from the entire state of Maharashtra. For a few minutes, I will just speak out of the way to make you understand a point. Suppose, you are out on a holiday with your family and suddenly a stranger comes and slaps your son without any reason. Wouldn't you get angry at that time and your blood start boiling. Definitely, even the coolest of a person will get angry in such a situation. But, we don't get angry and our blood doesn't boil when it comes to the government enforcing new taxes on us, as already we are under a huge burden of existing taxes. Speaking about FAM and it's functioning, our Hon'ble President Mr. Mohan Gurnani has worked hard day and night to his maximum capacity and his efforts are unvaluable. I feel very proud to say that we are lucky to have such an intelligent, wise, dedicated, humble and a great President. Now the question is, when such a great person is fighting for us and that too for a nobel cause, isn't it our responsibility to support him by sacrificing 36 hours of trade and attend the Maha Sabha ??? It is rightly said, "In order to achieve something, you have to sacrifice something". Now, the call is yours whether you want to make the Maha Sabha successful by attending it and sacrificing 36 hours of business OR let LBT be implemented and to pay LBT for our remaining life, which will be a black curse for our generations to come. Brothers, still time is in our hands. Get up before it is too late. LBT is not mere a tax but a direct way of increasing corruption. You cannot even imagine also that what will become the condition of trade and traders, if LBT is implemented. Once again, a request with folded hands to all my brothers to attend the Maha Sabha alongwith your friends, relatives, customers, employees, suppliers and all others with whom you are connected in your business. Let take an Oath that in the coming Lok Sabha elections, we will give our vote to only that political party who helps us in overthrowing LBT & Octroi from the entire state of Maharashtra. Thus, send a clear message to the government by being present in the Maha Sabha in huge numbers that we (traders) of Maharashtra are always united and will rage a war against anyone who dares to unnecessarily trouble our trading community. Finally to conclude, I am keeping expectations from you, my brothers, that you will be with me shoulder to shoulder to support FAM on 21st February, 2014 sharp at 2.00 PM at Azad Maidan, Mumbai. Hoping you will not let me down.
Traders present took oath of 'NOT TO VOTE' for political party which supports LBT in the forthcoming Lok Sabha & Vidhan Sabha elections.
Vote of thanks was proposed by Ghanshyamdas Rathi, Secretary, Chamber of Amravati Mahanagar Merchants & Industries
On the occasion SarvaRameshkumar Mantri, Convenor of LBT Sangharsh Samiti, NVCC, Nagpur, Suresh Jain, President, & Ghanshyamdas Rathi, Secretary, Amravati Mahanagar Merchants & Industries, Amravati Kamlesh Vora, President, Akola Chamber of Commerce & Industry & large members traders of Amravati were present, states in a press note issued by Hemant Gandhi, Hon Secretary of the Chamber.