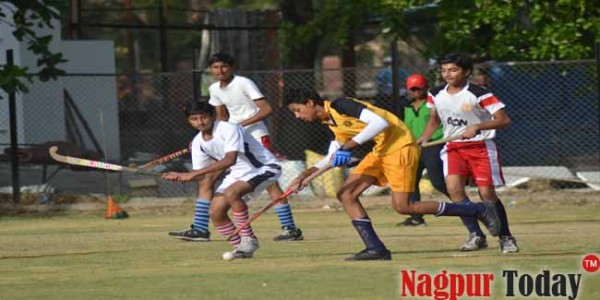 Nagpur News : The Alamin High School and Anjuman English School contest against each other for the supremacy on sixth day of Meeradevi Dasture Memorial Under-17 Inter-School Hockey Tournament. And the Alamin proved that they were superiors by defeating the Anjuman by 4-0 margin. The matches are being held at Vidarbha Hockey Association ground.
Abdul Wasir inflicted the first injury on Anjuman by scoring the first goal through a penalty corner (20th minute).  The penalty corner was awarded to Alamin because of a folly by Anjuman boys who crossed to outside the playing arena for drinking water. The second goal too was hit by Wasir (25th minute) again by penalty corner after the referee found the Anjuman players seating on the ground for longer period than the allowed time. The third goal was struck by Abdul Jube (34th minute) again through a penalty corner. The Alamin boy Mohd Danish (45th minute) completed the rout by hitting the ball to the Anjuman goalpost by cleverly deceiving and dribbling past the Anjuman boys. The half time score was 2-0. But by the finish time Alamin made a clean sweep by 4-0.
Tomorrow's (April 28) match schedule is quarter-finals between Jaibai Chaudhary School and Vimaltai Tidke Convent at 4 pm.