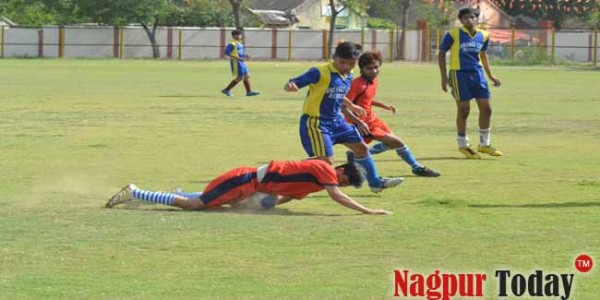 Nagpur News: The Lokmat Second Division Football League on Saturday witnessed a match between Kamptee United and Adarsh Football Club played their tie. The first goal was scored by Adarsh Club when its player Akshay Dharde hit the ball into Kamptee United goal post just after 5 minutes of the match. However, Kamptee United scored the equalizer when Maksud Ahmed struck a powerful goal just 10 minutes after the Sultan goal. However, the highlight of the match was thatthe Kamptee player Shadab Akhtar  scored a hat-trick when the brilliant player scored the goals on 40th minute, 43rd minute and the third on 59th minute of the match. The match was played at at Motibagh Ground in Nagpur.
In the other match between Orange City and Sultan Club, Orange City turned victorious by defeating Sultan Club by 2-1 margin. The first goal was scored for Orange City by Sandesh Dopare (4th minute), who reached near the Sultan Club goal with smart passes by Orange City players, and struck the ball powerfully that crashed on to nets of Sultan goal post. The second goal was, too, hit by the Orange City when Akshay Bhakre (55th minute) smashed the ball into the Sultan goal post with a mighty kick. However, Sultan had a solace of a sort when their player Mohd Jahid (65th minute) scored a goal.
Tomorrow (April 28), three matches will be played the contestants being Adarsh Football Club versus Orange City at 8 am, the second match at 3 pm between Kamptee United and Guru Nanak Institute, and the third tie at 4.30 pm between Sultan Football Club and Krida Vikas Sanstha.