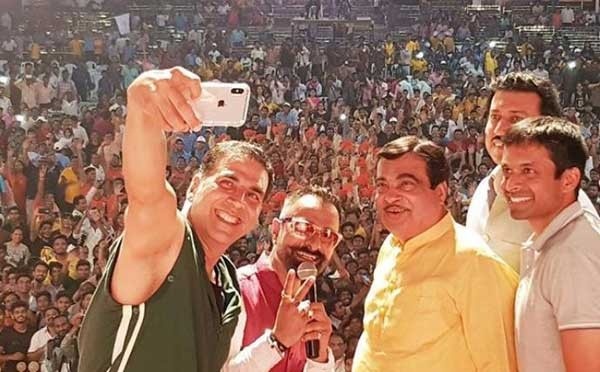 Nagpur: Union Trnasport Minister Nitin Gadkari on Monday inaugurated Khasdar Krida Mahotsav, a 20-day sporting extravaganza, in his home town Nagpur. Also joining him was junior Information and Braodcasting Minister Rajyavardhan Singh Rathore and Bollywood superstar Akshay Kumar and celebrated table tennis coach Pullela Gopichand.
Announcing that the event will now be an annual event in the orange city, Gadkari said, "The maiden Ranji Trophy triumph of Vidarbha cricket team has proved that we have plenty of talent in the region. Similarly, we want to motivate the players of other sports and provide them the right platform to excel. We also want to create a sporting atmosphere in the city."
"Like cultural festival, we will have a spectacular sports festival in the coming days. I believe that sports needs to be developed in the city by providing necessary infrastructure and proper facilities. We have invited former Olympic medal shooter and sports minister Rajyavardhan Singh Rathore and badminton legend Pullela Gopichand so that their presence could inspire the young local players. This is our sincere effort to spot and nurture local talent," Gadkari was quoted as saying.
Akshay took to Instagram to post a selfie with Gadkari, Rathore and Gopichand. While posting the selfie, the Khiladi actor wrote, "At #KhasdarKridaMahotsav ,a unique multi-sport event to help showcase talent at the grassroots level. Kudos to Hon. Union Minister Nitin Gadkari ji for providing this platform, Hon. Sports Minister @ra_rathore ji & Pullela Gopichand for their support. Hope it helps to bring more of India's sporting talent to the forefront‬ #ChakdeNagpur."
While his fans loved him being a part of an event to promote local sporting talent, there were many who took objection to his excitement on taking selfie with politicians such as Gadkari and Rathore. User Amit Koomar wrote, "Film Stars and Politicians… we all know how religious we are about our gods, cricketers and film stars… one selfie can be equivalent to thousands of votes…" Another user wrote, "I love u aksay sir but I hate this poltice people." "Bjp k useless fellows bhi hai sath me… akshay bjp's sleeper cell .. hmm.. wow…" was how another user commented on the photo.
Last year, when Akshay was preferred over Aamir Khan and Salman Khan during the announcement of the 64th National Film Awards, the actor had faced flak on social media. Many felt that Aamir for Dangal deserved the award more than Akshay for his role in Rustom.
In March this year, Maharashtra Navnirman Sena chief Raj Thackeray had slammed Akshay alleging that his two films, Toilet Ek Prem Katha and Padman were sponsored by the central government. He said that both the films starring Akshay Kumar were a covert propaganda for government schemes.