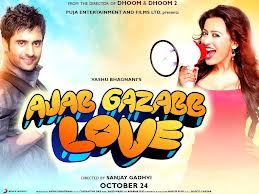 Banner
Puja Entertainment India Ltd.
Status
Released
Release Date
Today,26 Oct 2012
Genre
Comedy,Romance
Producer
Vashu Bhagnani
Star Cast
Jackky Bhagnani…. Rajveer
Nidhi Subbaiah…. Madhuri
Arjun Rampal
Arshad Warsi…. Cameo
Kirron Kher
Darshan Jariwala
Jayant Gadekar
Anuja Sachdeva…. Sweety
Mokshad Dodwani
Nagpur Today Review: The story of the film is an inspiration of a super hit telugu film "Seema Tapakai". But here Sanjay Gadhvi decided to make few changes considering the Hindi Viewer's in mind.
Ajab Gazab Love is a movie not based around a story, but around its protagonist Jackky Bhagnani, who is also the son of the producer. So it's Jackky that you see everywhere, wherever the camera turns to. He is dancing (extremely disoriented, almost stumbling!), prancing, doing air freezes once too often and mostly hamming his way through the story.
The film has very few strong points – you can count them on your fingers. Kirron Kher as the mother does manage to draw a few chuckles as she acts as the poor blind mother. As is Arshad Warsi's cameo, where he plays a servant pretending to be the boss. The rest of film is made up of jokes that are sad, ill timed, over acted and at times outright offensive to the poor.
The film almost begs for a laugh track so that the audience will know which scene is supposed to be funny! The production quality is cheap and cheesy, and makes you wonder why, when the producer obviously has the money to spare, he made such a tacky product. The editing is bad, as you can clearly catch cues from the actors signaling each other to start the scene – we counted at least three instances of this.
Nidhi Subbaiah is hot and busty in the right scenes, and hams her way confidently in others. Beyond that she is just a pretty face. As for the 'Hero' for whom the film was made – the only improvement in Jackky Bhagnani from last year's F.A.L.T.U. is the super toned abs that he flashes for at least 30 percent of his screen time and 90 percent of the time that he is dancing. And if you glance even casually, you can catch the careful ab-lines drawn by a crafty makeup-dada on the once-fat actor's stomach! His clothes fit him badly, and his acting is something to endure rather than admire. It almost gets in the way of the other actors, who do a decent job in carrying what's left of the story forward.
The proceeding of the film is repetitive. There is nothing new in the movie that you have not seen earlier. Huge amount of money have been spent on Erotic Locations and Costumes. Sanjay Gadhvi comes after a long gap, But as a Director he is handicapped by a wrongly developed script. Musically, Only the song 'Boom Boom' is tapping.
The film is just a one time watch. Especially when there is an over-flow of Films this season.
Our Average