Air Marshal SBP Sinha reviews operational preparedness of Air Force Station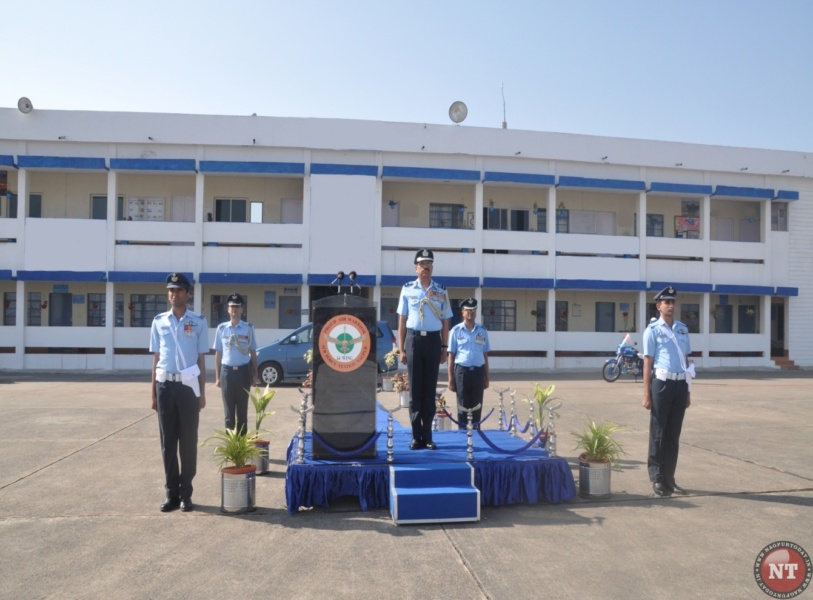 Nagpur: Air Marshal SBP Sinha PVSM AVSM VM, Air Officer Commanding–in-Chief, Central Air Command, IAF arrived at Air Force Station Nagpur on 30 Jan 18 for two days inspection visit. He was accompanied by his wife Alpana Sinha, President, Air Force Wives Welfare Association (Regional). On their arrival, the Air Marshal and Alpana Sinha were received by Group Captain AK Chourasia, Station Commander, Air Force Station Sonegaon and Wing Commander Dr Indu Bala Chourasia (Retd), President, Air Force Wives Welfare Association (Local).
The Air Marshal reviewed a ceremonial parade presented by air warriors of the Station. On 30 Jan 18, the AOC-in-C reviewed the operational preparedness of the Air Force Station, subsequently took stock of the maintenance and administrative aspects of the Station. On 31 Jan 18, he addressed all officers, airmen, DSC personnel and civilian staff of the Station and appreciated them for their hard work.
The Air Marshal emphasised on the core values of Indian Air Force viz Integrity, Excellence and Mission accomplishment and urged all personnel to follow it in right perspective. He urged all air warriors to enhance their professional capabilities to keep pace with latest technology viz aircraft and weapon systems being inducted in the Air Force. He aptly mentioned that Indian Air Force is undergoing remarkable changes in terms of modernization and exhorted all personnel to be prepared to accept the future challenges. While interacting with the station personnel, the Air Marshal enquired about their well being and conveyed his best wishes to them and their families for a bright future.
Alpana Sinha appreciates AFWWA(L)
A meeting of Air Force Wives Welfare Association was held on 30 Jan in which Alpana Sinha took stock of all activities undertaken by AFWWA(L). She appreciated the initiative of AFWWA(L) towards the welfare of families and conduct of blood donation camp, cancer detection camp and swasth sangini camp.
During his stay at AF Stn Nagpur, the Air Marshal interacted with Air Mshl Hemant Sharma AVSM VSM, Air Officer Commanding-in-Chief, Maintenance Command, IAF.