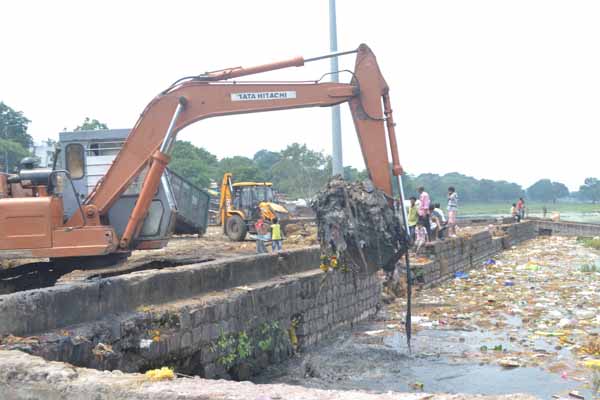 Nagpur News.
Though the call for eco-friendly immersion of Ganesha idols evoked comparatively better response this year, it still appears to be a long way to go. Going by the messy scenes at various city lakes the following day of Ganesh Visarjan, it can be gauged that the pollution still amounted to enormous proportions.
Wasting no time, NMC has also picked up the cleanliness drive at most of the lakes filled with idols and scattered nirmalya. A large chunk of deluge formed by clay and nirmalya was churned out from Futala lake. Idols from big pandals contributed to most of the water bodies filled with colors and mud. The excavating machines were pumped into action as it was evident from the war footing level at which the cleanliness work was being carried out.
Talking to Nagpur Today, NMC Commissioner Shyam Wardhane expressed satisfaction over the works being done to clear the water bodies of extracts of the idols and nirmalya materials. He said, "I have instructed my officials that there should not be any idol floating in the lakes or the nirmalya piling up on its banks by the next day of Ganesh Visarjan. All the lakes have been cleaned before the sunrise on Thursday"
Wardhane said that the works were completed by 4 am on Thursday. However, the work was still on at most of the lakes.
Though Commissioner claimed the entire water bodies were cleared, it would take more rounds of exercise to make the water appear clean.