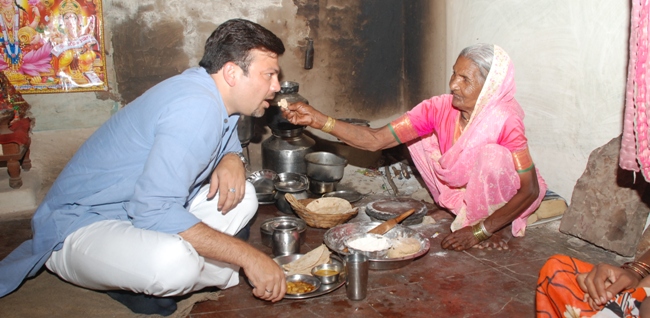 Nagpur News.
It appears that imitating national level youth leaders has been poll mantra for Dr Ashish Deshmukh. After gate-crashing a BJP event to meet a leader at a venue,  in BJP's firebrand MP Varun Gandhi's style , few years back, he tried his hands on the act of Congress Vice-President Rahul Gandhi by having food at an old woman's hutment in Sewagram. While on his padyatra stint to press for statehood to Vidarbha under his banner – Youth for Vidarbha, Deshmukh got a chance to be clicked for some picture friendly moments that resembled Rahul's visit to tribal woman's hut some time back. Both the acts hold relevance as it were consciously timed to eye elections. Previously it was for BJP ticket while the latest one comes for grabbing Congress ticket to contest on Saoner assembly constituency.
Dr Ashish Deshmukh, the high-profile elder son of veteran Congress leader Ranjeet Deshmukh, had previously followed the footsteps of Rahul's political rival cousin Varun when he threw some overtly daring gestures in public domain. Given those acts did not help much, this time he tweaked his approach and gone the Rahul way.
In a clear picture of poll projection, Dr Deshmukh tried to give new lease of life to his not-so-exciting political career after he cropped up with instant issues of Vidarbha and then getting cozy in a poor woman's habitat. Aspiring to register a win this time, Deshmukh has brought little change in his approach as devising Varun's tactics did not work during the last assembly elections in 2009 when he contested from Saoner constituency on BJP's ticket and faced humiliating defeat.
Poll analysts say Deshmukh has timed the opportunity to come out of hibernation as the Assembly elections are inching closer. By organizing a few big programmes in Saoner recently, he has signaled his venture into poll fray. Now, he has grabbed the freshly raised issue of separate Vidarbha demand to the hilt. He has undertaken a padyatra from Nagpur to Sewagram and the latest one followed the lines of Rahul Gandhi when he got himself clicked while having food at the hands of a poor, age old woman.
Sunil Kedar holds key to Deshmukh's success
Current poll equations indicates Saoner MLA Sunil Kedar's role as vital in leading Deshmukh to success. If Kedar's formula, which has reportedly reached the Chief Minister for consideration, works well then he will contest Saoner seat while Dr Deshmukh tries his luck from Ramtek on Congress ticket. As per the backstage strategy, Kedar would be wholeheartedly supported by Deshmukh workers and Ashish would receive full support from Kedar and his men. With this formula, Kedar has assured the Congress high command of certain victories for the party from both the seats. Deshmukh-Kedar families have an army of supporters in both the Assembly constituencies.
Younger brother makes an impressive start
Ranjeet Deshmukh's younger son, Amol Deshmukh, has a different political strategy. He never misses the bus to meet known or unknown voters by coming forward and take the concerns head on. When it comes to matching the likes of Rahul Gandhi, Amol certainly scores ahead of his elder brother. On the other hand, Dr Ashish Deshmukh stays in limits and does not open his cards. The overall opinion tells Dr Amol fits the bill to succeed and hold the mantle of Ranjeet Deshmukh.