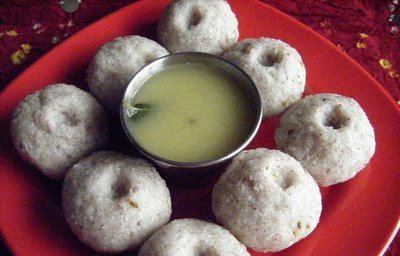 Nag Panchami as it is commonly called is a festival celebrated exclusively for Snake Gods. Every year on this day many Poojas and Abhishekams are made to please the Naga devathas. But this sacred festival of Nag Panchami is not only an occasion for sacramental rituals but also for tasty foods. In fact, many food items are specially prepared to pay a tribute to the various snake-gods worshipped during the occasion.
It is a common belief that anything which requires the use of a sharp knife/spatula is to be avoided on this day, for example Dosa, Appey, etc. Adsara Undi for Nag Panchami is one such food item, that I thought the readers should know, because of its simple recipe and making procedure. Thengai Chutney is yet another dish in itself that is served with a lot of delicacies like Dosa, Vada, Idli, etc. The serving of Adsara Undi will taste even better with Thengai Chutney.
Adsara Undi
[Dumpling made of Rice & Coconut]
Ingredients
Raw rice – 1 cup-soaked for 4 hours or overnight[I used half and half of raw rice and Payasam rice-Puzhukkalari]
Freshly grated coconut – 1 cup
Jeera/Cumin seeds – 1 teaspoon
Salt to taste
Method
Grind the grated coconut to a smooth paste in the mixer.
Drain the soaked rice and grind it along with coconut to a coarse paste-almost the consistency of sooji/semolina.
Add the jeera and salt to taste.
Make small balls out of the paste [size of a lime] and steam in a steamer or an Idli cooker for about half an hour or till a toothpick inserted comes out clean-You could also cook the batter, as in Undi which would make the batter stiff and pliable. This way, it is easier to make into round balls and then steam them. Follow whichever method you are comfortable with.
Serve hot with delicious Dali thoy or Thengai Chutney.
Thengai Chutney
Ingredients:
Tengai/Coconut — 1 cup (I'm quoting this for 2 people)
Green chilli– 3-4 (as how spicy one likes)
Salt
Water
Seasoning:
Oil — 1 tsp
Mustard seeds– 1tsp
Ulud dal — 1/4th tsp
Asafoetida powder- a pinch
Red chilli -1
Curry leaves – few(well chopped)
Garnishing:
Corriander leaves (well chopped)
Method:
Take a blender, add tengai/coconut, salt, green chilli (chopped or whole) and salt. Blend these ingredients well and keep it aside. Now take a frying pan and add oil to it, then add mustard seeds, and asafoetida powder, when the mustard splutters well, to it add red chilli and curry leaves and ulud dal and saute well on a low flame till ulud dal changes color. Now add the tengai/coconut – green chilli paste and saute it well and now garnish with corriander leaves.
Enjoy this lovely dish with Adsara Undi……