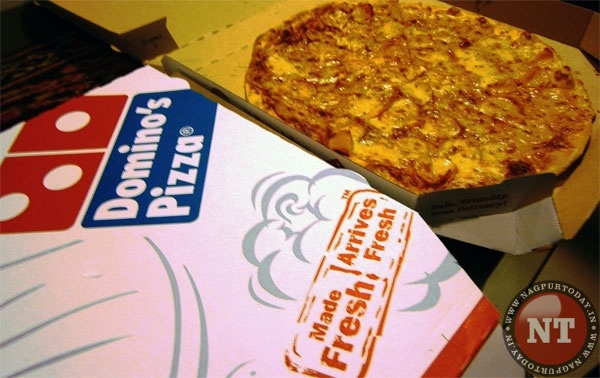 NAGPUR: City-based Pizza company Domino's, which is one of the largest franchiser of Pizza, is found breaking an important rule by not giving proper warning on its pizza packages to the customers. The maida, which is used in making the pizza base, issues a warning for two types of patients on its packaging but no such warnings is given by Domino's on the pizza box when it is delivered to customers. The Food Department of Nagpur has also given this information in its report. Still the company is breaking the rules and regardless of this, any kind of action has been taken against this big company.
Anti-adulteration Committee chairman Mohd Shahid Sharif revealed the misleading information by the company. The FDA has stated in its information that Domino's Pizza is made from 'fortified' wheat flour maida. The sack reads a warning that 'Thalassemia and people on low iron diet' should not consume this flour. According to the FDA, the workers were operating without gloves while making pizza, even in the dry ware house, there are also non-food items, including clothes made of inorganic materials.
Samples of cheese and mozzarella substitutes mixed in pizza were taken and tested which showed low quality substance. Even after having so much evidence, action is still pending.
Why the Food Department has not taken any action on this big company so far is still a questionable issue.
Sharif informed that Domino's Pizza is manufactured in Jubilee Food Work Ltd located at Butibori Nagpur, from where it is then transported to five other states. Every day five to six trucks are being transported from here.
As per FSSI rules, it is mandatory to mention information on the packages of the raw material from which other materials are manufactured. The name of the flour which is made of the domino pizza is called 'fortified' wheat flour. Which is only produce for Domino's Pizza in Mumbai and warnings for the same is also given on the packing box which reads that 'Not recommended for people suffering with Thalassemia and people on low iron diet'.
But Domino has done the job of concealing information. It has become clear in the investigation made on January 12, 2018. Sharif has demanded that the information should be sent to the State government and the Central government. Sharif said that despite the violation of rules, no action has been taken on the Domino's Pizza from the Nagpur Food Department.