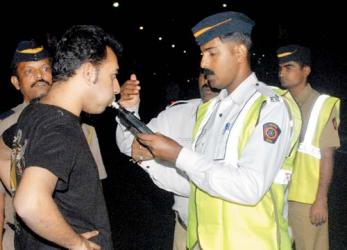 Nagpur News:
The breath analysers brought from Pune and special police forces on duty at particular spots in the city appear to have done their job of curbing and catching drunk drivers on New Year's Eve pretty well. Many city revelers had to welcome the New Year from police lock- ups last night, as a total of 1157 people were caught driving in an inebriated condition on city roads last night.
Of the 1157, 38 people were taken into custody not only for drunk driving, but also for creating scenes at public places, fighting with policemen and disrupting law and order in general. Eighteen among these were booked under Section 107 of the IPC, eight people under section 109, two people under Section 110, one person under Section 41(1) and nine people under Section 41 (2). A fine of Rs. 4, 360 was collected from five people alone, who were booked under Section 05.
270 bikers were booked only for drunken driving on the night of 31st December. Five drivers were also booked for the same reason. A staggering total fine of Rs. 1, 26, 200 was collected from drunk drivers in that one night.
Nagpur Police have once again appealed to the citizens to refrain from driving when drunk, for the safety of everyone driving on city roads.