Nagpur: Abhinav Singh, a Program manager at Google in California, USA son of S P Singh, PRO at WCL, Nagpur tie knot with Surabhi Sarda, daughter of Dr.MS Sarda, in a glittering ceremony at Nagpur's VCA club in Jamtha. Surbhi also works in California as a Senior Application Engineer.
While the bride looked resplendent in her bridal avatar, the groom too sported a suave royal look. The couple was elated to walk the fresh new phase of their lives.
On December 13 2018 in the chilly winter afternoon, the couple cherished the moments of their lifetime while the same day a grand reception party was organised for friends and relatives of both the families.
Well-wishers from all walk of life ; bueraucrates, writers, doctors, politicians, journalists, artists & other diganitories blessed the newly wed couple.
The evening was a delight packed with showers of blessings and delicious food. Brimming with joy and eager to bless the newly wed couple, guests lined up to the dais and extended their wishes the bride, groom and family members.
A special attraction for the day apart from the groom and bride was a bicycle on which tea was served. The bicycle was graciously decorated with many decorative stones which exuded a glimpse of Rajasthani look.
There was Punjabi Food, Maharashtrian food, Rajasthani food, Italian and Chinese cuisines and handpicked yummy starters along with tempting line of sweets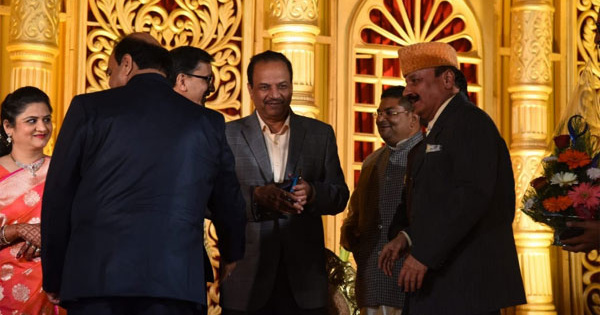 There was a special fruit in fruit section called 'Mango stick' which was liked by one and all.
One more sweet named 'Coffee Biryani' also stole the show among taste connoisseurs.
– Farhan Kazi
– Pic by Rajesh Bansod