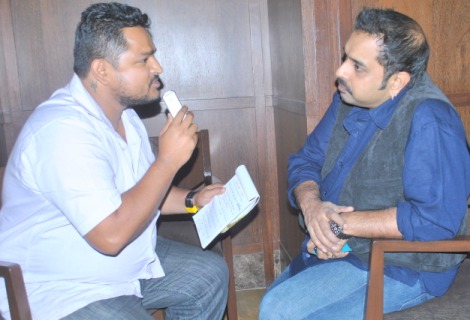 Nagpur News:
Singer, Composer, so called the "Magician" in music was 5 yrs of age when he started playing veena but today which instrument he wants to play? , which films music is the most memorable for him and what is reality shows all about. Shankar Mahadevan speaks to Nagpur Today in an exclusive chat.
Nagpur Today: Describe yourself in one song
Shankar Mahadevan: Oh god!!!!! Wake up Sid
Nagpur Today: What made you get into music?
Shankar Mahadevan: It's the passion and the inner belief that I can do something in it.
Nagpur Today: Your learnt veena at the age of 5, any other instrument you plan to learn
Shankar Mahadevan: I want to learn more of piano and it's never too late .There is lots do but just one lifetime.
Nagpur Today: Breathless was one huge milestone do u plan for breathless 2.
Shankar Mahadevan: See I don't think that ways and don't want do which I have already done so something new soon.
Nagpur Today: How was it judging Sa Re Ga Ma Pa, you said it was very memorable?
Shankar Mahadevan: It was a great show and the idea was that people get to hear some great music some great voices and I am glad people got it. We kept all the non sense out and made it purely musical.
Nagpur Today: Are reality shows real?
Shankar Mahadevan: Yes there everything you see is real, you might think people fighting is unreal but it is but I think we have tried always to keep the focus to music which people sometimes loose on.
Nagpur Today : One film's music  which while making was  memorable ?
Shankar Mahadevan: Dil chahta Hai (close ,so close to my heart)
Nagpur Today: You're upcoming Projects?
Shankar Mahadevan: Bhaag Milkha bhaag, 2 states, D-day,kill dil,One by 2 .
Nagpur Today  : One song shankar's feels singing anytime,everytime and always.
Shankar Mahadevan : Abhi naj jao chodkar ke dil abhi bhara nahi
Nagpur Today: Nagpur for you.
Shankar Mahadevan: I think a very clean city, a beautiful city, with very warm people I feel like coming again. Thank you & Love you Nagpur.
:Yash Raj Trivedi