AAP's Anjali Damania files nomination on time with few supporters; says rally is waste of manpower

Nagpur News.
After Congress and BSP candidates, Vilas Muttemwar and Dr. Mohan Gaikwad filed their nomination from Nagpur parliamentary constituency, the new entrant Aam Aadmi Party's Anjali Damania made it a point to file the nomination on time, unlike her rivals party candidates. Damania filed her papers sharp at 11 on Saturday morning amidst the sobriety of his supporters who are very few in numbers.
Sans pomp and show
When Damania was asked why she has come with a bare minimum of only 5 people as opposed to the rallies which other political parties take out before filling the nomination papers, she said that taking out a rally (for show of power-Shakti-Pradarshan) is a sheer wastage of manpower, money and time of so many people. She said that we only asked our party people not to come. When time comes, AAP will show their power and might. She added that we must change the way of thinking and political scenario. She said that she finds no justification of any sort in wasting time, money and manpower.
Campaigning on a different note
When asked why is it that the political campaigning of AAP on a low key, she refused this and said that she and her party activists have been going to various areas, and that AAP is getting a tremendous response. She said that when people see us they rush back into their houses and bring out the broom and show us displaying their hope and support for AAP. It is because of them, that we feel re-energized and work harder to change the political scenario and do something pro-active for these poor and needy people.
Clearing the air…
Talking to  Nagpur Today after filing nomination, Damania said that AAP is getting tremendous and phenomenal response from the denizens of the city. Refuting the allegation that she been avoiding the media for the past few weeks, she said that she gets only two hours in the afternoon and that she gives media personnel appointments and does speak to the media whenever she gets time. When asked to clear the air surrounding the talks of the Corporator in NMC named Harish, who is in AAP, been nominated as the next Standing Committee Chairman while BJP is in majority in NMC, she said that Harish was in AAP and would continue to serve their party only. "He was an independently elected corporator and had taken the support from other independent candidates and has been nominated as Chairman," she clarified.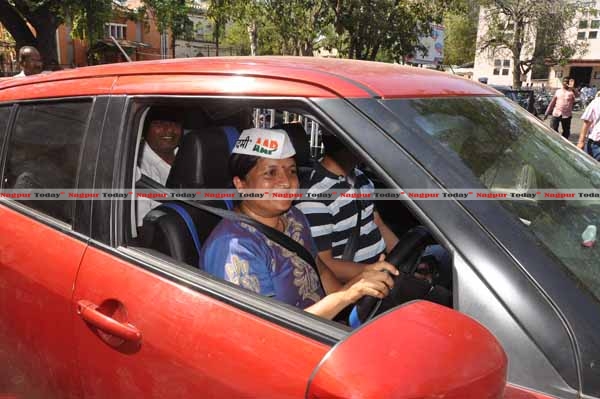 When scribes quizzed Damania over BJP's claim of 100 AAP office-bearers joining BJP, she said that she went through the list given to her, and she found that none of them were ever in the AAP. She added that by giving Rs 10, anyone can become a member of AAP. "If they themselves sent these candidates to our party and later pull them back, it indicates cheap political stunt," she added. She said that no AAP member will ever, at least in this life, go and join the rival political party.
While clarifying about Mohan Karemore, she alleged that he was never with AAP. He was with Hindu Mahasabha and that under the training of Sharad Pawar, he has been trying to break the unity and cause confusion among the ranks of AAP. First they make false allegations, when that does not succeed; they try and cause confusion among the masses as to who is genuine and who is not.