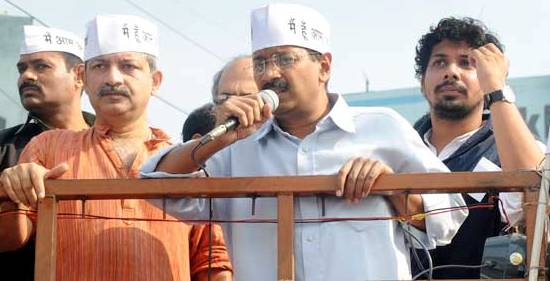 Nagpur News:
Aam Admi Party (AAP) has demanded immediate resignation of Prime Minister, Law Minister, Attorney General, and PMO officers for their alleged involvement in the Coalgate scam that has rocked the country. Rajesh Pugalia, activist of AAP, said that city AAP has condemned the Prime Minister for his involvement in the scam and said that city party unit has been raising this issue in city.
He further said, media has reported the Government had vetted the status report of the coalgate scam before it was filed by CBI in the Supreme Court. In the last hearing held on March 12, Prashant Bhushan had made a plea that since investigation of the scam involves inquiring into the role of Prime Minister and other Cabinet Ministers, therefore, CBI would not be able to investigate into the case independently as it is controlled by them. The petition has been filed by Prashant Bhushan on behalf of Centre for PIL and common case.
Pugalia said, CBI filed the status report a day before the hearing. Answering to question raised by SC on credibility of CBI in the case, Attorney General Vahanvati said that he hadn't read the status report, thus, Government officials knowing about the report was not possible. Interestingly, the Court asked the CBI Director Ranjit Sinha to file his own affidavit stating that the status report has not been shared and would not be shared with the Government.
Contradicting this, a report published in Indian Express clearly mentions that not only the status report was shared  with Law Minister and PMO but it has also been diluted at their instance. However, what the Express report does not mention is the fact that Attorney General was present in the meeting at the Law Minister's office where this report was discussed and diluted.
He alleged that all this shows why Government is not willing to let go of their control of the CBI at any cost because an independent CBI under an independent Lokpal would result in more than half of present Cabinet going to jail and prevent the Government from pressurising the leader of various parties by alternately pushing and soft peddling CBI investigations against them. This brazen interference in the Coalgate investigation by government, an investigation being currently monitored by the Supreme Court shows the desperation of government and requires immediate sacking of Law Minister and Attorney General, apart from officials of the PMO. In fact, it requires the resignation of the PM himself. In any case, these facts make out an unanswerable case for an independent SIT in the Coalgate scam.
Aam Aadmi Party demanded setting up of SIT for investigating the allegations made against various Ministers including PM in the Coalgate scam. We also once again demand that the CBI should be made independent of the Government by placing it under an independent Lokpal in the manner proposed in the Jan Lokpal Bill.