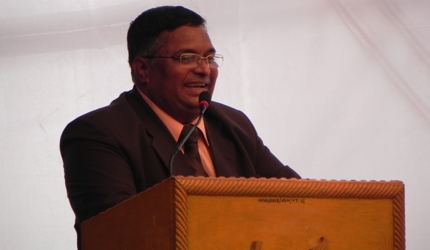 Celebrating the spirit of womanhood, Nuva College of Engineering and Technology dedicated its annual cultural festival Nuvotsav-13 to the innumerable women who in their various roles are the force behind the nations development, whether as a home maker, a corporate leader or as an army officer. The woman of today is inferior to none and this fact is to be acknowledged and accepted by the society at large.The event showcased its theme integrated with various events whether in the form of a dance drama which brought to notice the cause of female foeticide, in singing and even beautifully portrayed in the rangoli creations by the students.
The function commenced with an inauguration by the Pro Vice Chancellor, RTMNU Nagpur, Dr Mahesh Kumar Yenkie. Dr Yenkie in his address to the gathering emphasized on the importance of learning and  the effort which needs to be directed towards research work for the constant technological development.He greatly appreciated the theme of womanhood and gave examples of woman achievers like Marie Curie who have engraved their name in history for the kind of work they have done.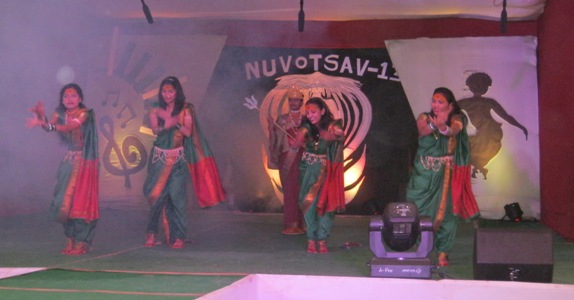 The mega event comprised of sports and cultural performances as well as competitions. Nuva College, spread over a vast expanse, has facilities for various outdoor sports like basketball, volleyball, cricket, football etc, which gives the students an encouraging boost to develop a sporting spirit and camaraderie. Events like dance, singing, quiz, drama, artwork, rangoli, mehendi, fete, fashion were the highlight of the two day mega event, where the students, under the guidance of their teachers/mentors displayed their abundant talent, whether performing on stage or in organizing the event to perfection. Students, on one hand were seen performing classical as well as fusion dances with the same aplomb, whereas on the other they also got an opportunity to display their cooking and hone their marketing skills in the fete.
The event culminated with words of motivation and a vote of thanks by Jogy Scaria, Director, Swapna Raut ,Director(HR),Dr Arif Khan, Principal and Anvita Paranjpe, Incharge Nuvotsav-13.