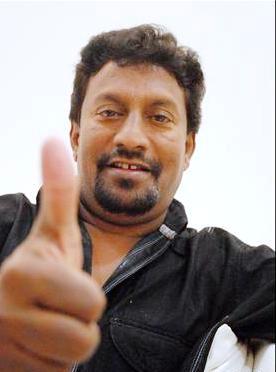 Deepak Nilawar, the owner of Revati Constructions, started his business in 1984. Before entering into Real Estate he drove an Auto Rickshaw for 4 years. The journey has been long but definitely fruitful. His meticulous rise to fame is worth credit and attention also. In a tête-à-tête with Nagpur Today, he tells us his story.
Marcelo Azavedo: Tell me something about yourself?
Deepak Nilawar: If you ask me about my background, I would say that I didn't have any background at all. My background was minus zero. From minus zero we have come this far. The reason is the prayers of my family and god's will. That's the reason we managed to achieve so much.
Marcelo Azavedo: Before starting your real estate business, what were you doing in terms of your career?
Deepak Nilawar: I have worked a lot from my childhood. As I grew up I had a canteen in a college and that helped me finish my education. Then in Yavatmal, I drove an auto rickshaw for 4 years. I entered the real estate line in 1984.
Marcelo Azavedo: In 1984 you entered into the real estate business, what was the reason behind it?
Deepak Nilawar: You normally see in movies that some inspirational incidences happen, the same happened to me also. I used to work for a builder and used to sit in his office. One day suddenly a thought came to my mind that if he can do it, then why not me. It doesn't matter that I have a minus zero income, if he can do it so can I. And that motivated me to take the plunge into the business.
Marcelo Azavedo: How did you mobilize the capital and convince people to trust you, as you had a minus zero income?
Deepak Nilawar: I searched for a plot and gave them a token amount. I went to people to sell apartments in my complex. I told them that I want you to invest in these flats and also that this is my first deal and I will need help but let me tell you that people never said no and invested in my scheme, but some of them then pulled out. That's the way the world works. You get some and you don't also, but I never gave up and moved forward in life. I have a never say die attitude.
Marcelo Azavedo: When did you realize that you have made your name in this Industry and have met your goals?
Deepak Nilawar: I haven't made my name yet in the industry and about reaching my goals then I would say that I have a long way to go to achieve my goals. Learning the industry traits has always being my way of moving ahead because you have to learn all the time to survive in this tough industry where technology is playing a vital role. The day I think that I have achieved my goals that's the day I am finished. My journey in this industry will end because we have to keep learning. This learning must not stop.
Marcelo Azavedo: How many properties do you have under the Revati construction flagship?
Deepak Nilawar: Under the Revati construction banner we have done projects like the NKY Tower at Ajni square, project at Besa, Madavnagri. The latest project under the Revati constructions is by the name of Royal Gayatri Park 1 which will consist of 160 Flats that will be of 2BHK size.  The next in line is  the Royal Gayatri Park 2 which will consist of 250 Flats.
Marcelo Azavedo: Would you like to enter into another sector?
Deepak Nilawar: I have worked in politics. Then have sponsored 2 Marathi films and am an ardent badminton lover and still play every day.  I also had a hotel in Yavatmal so my journey has been really vibrant and difficult also.
Marcelo Azavedo: Hotels in Nagpur are doing well, didn't you ever think of setting up your Hotel in Nagpur?
Deepak Nilawar: Yes I did think about this. The thought came to my mind in 1988 when Butibori was established and I bought a plot there, even today the plot is still there and I will definitely start a hotel there. I keep on saying I haven't reached my destination yet, I am a very ambitious person and I want to do a lot more than what I am doing right now.
Marcelo Azavedo: What is your method of selling a plot or a flat scheme to your customers?
Deepak Nilawar: See it's simple. Whenever I want to sell my property to someone, I simply put myself in their shoes and think that I want to buy this flat. If I am satisfied with what I see closely, then only will I buy it. So that the way I go about building schemes because Deepak Nilawar doesn't sell flats or buildings , he sells dreams to people, shelter to people, memories of a lifetime to people and that's my motto.
Marcelo Azavedo: Any plans of expanding your business outside Nagpur?
Deepak Nilawar: Mumbai pulls me because there is speed there and I love speed. That's why I want to build something there.
Marcelo Azavedo: Yours hobbies?
Deepak Nilawar: Playing Badminton, Music, Making Films and travelling the world. Leaving America I have roamed the entire world.  
Marcelo Azavedo: Who is your inspiration?
Deepak Nilawar: My poverty.
Marcelo Azavedo: What's your turnover?
Deepak Nilawar: I have  sold 500 flats in 2 years so you guess what my turnover will
be.
Marcelo Azavedo: Good wishes for Nagpur Today?
Deepak Nilawar: May Nagpur Today grow tall and vast like my buildings and reach to every corner of the country and beyond.