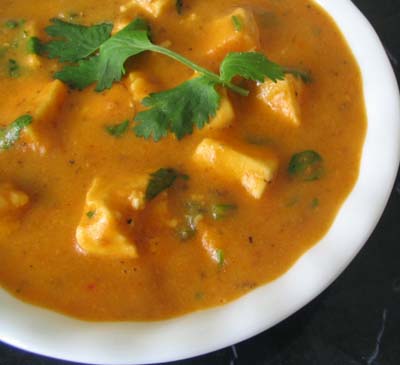 When we were kids, whenever my parents went out to a 'grown ups only' party, my mother used to ask us what we wanted for dinner at home. 99% of the time, our choice was pooris and shahi paneer. My mother was always nice enough to oblige. Here is the recipe. It is quite rich and hence a nice treat. 1 teaspoon coriander (dhania) powder
Ready in 30 mins
Ingredients
Serves: 4
2 tablespoons oil
200g paneer
1 large onion, thinly sliced
2 red onions, finely chopped
4 cloves garlic, chopped fine
20g root ginger, finely chopped
4 tomatoes, pureed
2 cloves garlic, finely chopped
¼ kg paneer, cubed
200ml double cream
½ teaspoon turmeric (haldi) powder
1 (400g) tin chopped tomatoes
½ teaspoon kashmiri red chilli powder (less if you want)
1/4 teaspoon garam masala
1 teaspoon cumin (jeera) powder
1/2 teaspoon sugar
Salt to taste
salt to taste
1 teaspoon sugar
pinch of turmeric
2 tablespoons chopped coriander leaves
4 teaspoons cooking oil
¼ cup cream
Preparation method
Prep: 5 mins | Cook: 25 mins
Heat oil in a large frying pan. Add the onions and garlic. Cook till onions are soft and golden brown. Add the turmeric powder, red chilli powder, cumin, and coriander powder. Fry for 30 seconds till fragrant.
2. Heat oil in a cooking pot. Add chopped onions and fry till translucent. Add chopped ginger and garlic and fry for 5 minutes on medium heat. Add the garam masala and fry further 2 minutes.
3. Add the tomato puree and cook over medium heat till excess liquid evaporates and the oil separates. Add ¼ cup water, salt, sugar and paneer. Stir gently so that the paneer does not break. Cook 10 minutes so that the paneer absorbs the gravy flavour. Add cream and simmer for 5 minutes. Garnish with coriander leaves and serve.
4. Add the tin of chopped tomatoes and salt to taste and fry till the oil leaves the sides. Add the sugar to taste and let the mixture cool. Blend the mixture in a blender
5. Put the paneer pieces in hot water with a pinch of turmeric to soften the paneer; drain.
6. Put the blended mixture back in the pan and heat mixture for another five minutes. Add the cream and then add the drained paneer pieces. Switch off the heat and garnish with coriander. Serve with pulao rice or chapati.