"A person like Atalji is born once in a century": Devendra Fadnavis

Nagpur: "A person like Atalji is born once in a century. The seeds of a developed India of 21st Century were sown by him long ago. Following his footsteps will be a real tribute to him," said Devendra Fadnavis, Chief Minister of Maharashtra. He echoed the sentiments of the dignitaries on the dais and people in the audience at a programme organised on Saturday by Bharatiya Janata Party (BJP) city and district units to pay tributes to 'Bharat Ratna' Atal Behari Vajpayee, former Prime Minister of India, who passed away recently.
Fadnavis was speaking at the programme held at Kavivarya Suresh Bhat Sanskrutik Sabhagruh in Reshimbag here. Nitin Gadkari, Union Minister for Road Transport and Highways; Chandrashekhar Bawankule, Guardian Minister of district; Nanda Jichkar, Mayor; Dr Vikas Mahatme, Rajya Sabha Member; Nisha Sawarkar, President of Zilla Parishad; Ajay Sancheti, former Member of Parliament; legislators Sudhakar Kohale, Sudhakar Deshmukh, Krishna Khopde, Vikas Kumbhare, Dr Milind Mane, Girish Vyas, D Mallikarjun Reddy, Sameer Meghe, Sudhir Parwe; Ramesh Mankar, former President of Zilla Parishad; Ashok Mendhe of Bharat-Tibbat Sahyog Manch, and Dr Upendra Kothekar shared the dais on the occasion. Anandrao Thaware, Office Head of BJP (Rural), presided over the function.
At the outset, Fadnavis, Gadkari and other dignitaries paid a visit to the place where urn containing ashes of Vajpayee was kept, and offered floral tributes. The urn will be carried to Kamptee on Sunday at 9 am. All the people present in the hall paid their respects to the departed soul by observing a two-minute silence.
Expressing grief over the sad demise of Vajpayee, Fadnavis said, "Such a day should not come in our life. Atalji's presence used to provide us a new energy. Now, he is no more with us. But, we will keep receiving the energy of his thoughts forever. For, he lives on in the heart of each one of us."
Calling Vajpayee 'Akhil Guru', the Chief Minister said, "His journey was similar to growth of a seed into a big tree. He rose to become 'Akhil Guru'. He dedicated his entire life for nation-building. It was amazing… the kind of qualities he possessed."
Fadnavis recalled various roles Atalji played during his stellar career. "He had no enemies. But, as an Opposition leader he kept a tight leash on the rulers and scolded them in harsh words whenever they did something wrong. At the same time, he praised them when they did good," he added. It was during Vajpayee's tenure as Prime Minister that India learnt to develop various technologies indigenously. He had guts and conducted nuclear tests at Pokhran, following which developed countries imposed numerous sanctions on India. "But, Atalji stood like a rock," he remembered.
Gadkari informed the audience about the peculiar life of Atalji. "His life was full of faith and loyalty. He took everyone into confidence in the party. He respected party leadership and had a fully democratic personality. He was not vengeful. Atalji always said there could be difference of opinion but there should not be discordance," he added.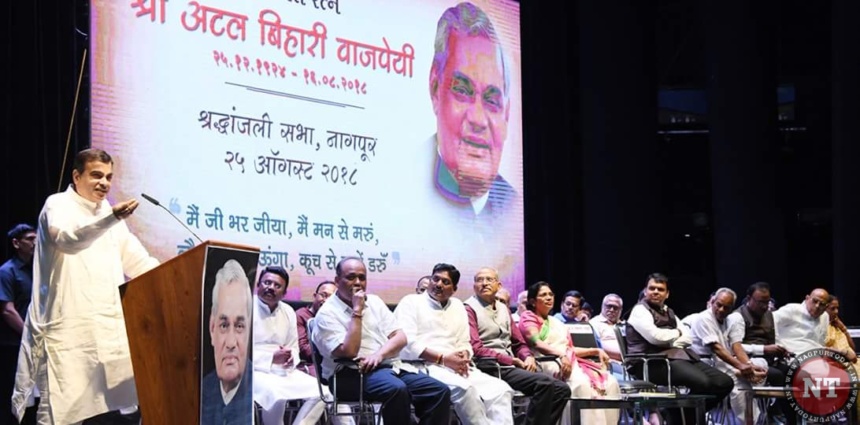 Thaware appealed to the partymen and people to follow the ideals of Vajpayee. Kohale also expressed his thoughts and paid glowing tributes to Vajpayee.
Dayashankar Tiwari, senior corporator, conducted the proceedings of the programme while Dr Rajiv Potdar, District President of BJP, proposed a vote of thanks.
Anand Kitkaru presented a song at the outset. Various people presented poems and speeches before the meet began.
Dr Vilas Dangre, Nago Ganar, MLC; Shripad Risaldar, Dr Ravindra Bhoyar, Sandip Joshi, Ruling Party Leader in Nagpur Municipal Corporation (NMC); Pravin Datke, former Mayor; Virendra Kukreja, Chairman of NMC Standing Committee; Dharmapal Meshram, Shrikant Deshpande, Dr Shridhar Gadge, Prasad Mahankar, Dr Mrunalini Dasture, Yogesh Ban, and others also were prominent among those present on the occasion.