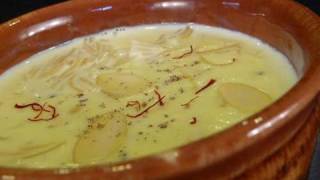 The festive season and hence the times of fasting (Vrat) have arrived for Indians. People of almost every age group are seen practicing all nine days of fasting during Navratri.
Sabudana kheer is one of the most favored dish for fasting/vrat. People enjoy it during Shravan/Navaratri. It is simple & easy to cook, looks nice with bubble like sabudana over milk.
This dish is made of sabudana, milk, sugar & lightly flavored with cardamom, saffron & dry fruits, and hence making it a perfect treat at the times of fasting.
Ingredients:
1/3 cup sabudana (sago)
3 cups milk
3 tbsp sugar
2 tsp sliced pistachios
4-5 almond chopped
4-5 cashew nut chopped
Few strands of saffron
1/4  teaspoon cardamom powder
Method:
Wash & soak sabudana (sago) in about 1/3 cup of water for at least 2 hour. Sabudana will soak up most of water, become light & fluffy.
Boil the milk in heavy bottom pan & let it boil for 8-10 minutes, stir occasionally so milk does not burn in bottom of the pan. Add sabudana & cook until it is soft & has become translucent. This should take about 4-5 minutes.
Now add sugar, cardamom, saffron & boil for 2-3 minutes. Stir it.
Also add chopped cashew nuts & almond. Boil for 2-3 minutes. Turn off heat.
Shift the Kheer in a serving bowl, garnish with saffron, cashew nuts, almond & pistachio.
Kheer can be served hot or chilled as desired.