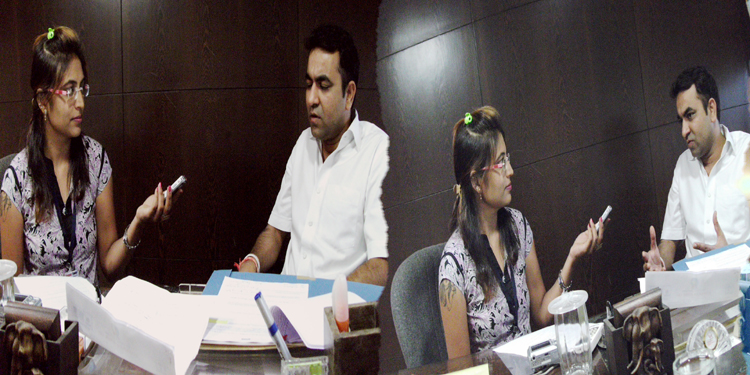 Nagpur Today Youth Icon: Sameer Meghe: Treasurer, Nagar Yuwak Shikshan Sanstha
Secretary, Datta Meghe Institute of Medical Sciences.
Sameer Says "A nation is built only by educated and cultured youth, brimming with determination, confidence and dedication." Above quote aptly fits the young and the dynamic Shri Sameer Meghe. A technocrat and an administrator has to adapt himself to maintain pace with rapidly changing technology. This is the basic requirement that has to be understood for overall development.
We met Sameer Meghe and had a little Conversation which is as follow:
Suhani: Tell me something about yourself and your family.
Sameer Meghe: I am a commerce graduate. For the past 10 years, I have been managing my family business. I had a love marriage to a Marwari girl, and have two beautiful children. I live in a joint family.
Suhani: Something about the organization you are working with.

Sameer Meghe: If you talk about my political career, I am presently president of Nagpur Lok-Sabhah Youth Congress. I am working in this capacity for the past 1 year. During my tenure, we have come up with various programs for the well being of the people. We have been providing cycles, study material, and other things facilitating the children in their education to Nagpur Maha Nagar Palika's 100-150 students of 9th and 10th std. we have awarded scholarships worth Rs 10,000 to 3 students and since 6 years we have been helping by conducting exams through a computer bus.

Suhani: How do you manage the political as well as education sector together?
Sameer Meghe: We had to work hard initially, when we didn't have a system. But over the years, we have developed a system and now we follow it. We take reviews at frequent intervals and if we feel a particular change is needed, we then implement it. Otherwise everything is pre-planned, so work progresses smoothly. All system and technology is installed properly.
Suhani: Politics is treated as a dirty subject by the public. If someone is in politics, he is corrupted. This is the mentality of the general public. What are your views?
Sameer Meghe: Everyone is not bad. As in every field, there are a few corrupt people who are ruining this profession. According to me, it's the educated people and youth who can take politics to the next level, and who will think well for the country. I believe action speaks louder than words. Youth congress gives fair chance to everyone.Definitely corruption is in every system but someone needs to take actions not to just talk it away.
Suhani: There is a cat fight between the political parties. One blames the other. Why do such things take place?
Sameer Meghe: As every individual's perception differs, similarly thoughts of different parties differ and this is the sole reason for conflicts and fights.
Suhani: Politics is turning into a nastier and dirtier game day by day. What is your step to improve this?
Sameer Meghe: Politics is a combination of good and bad things. Like every human being is not bad similarly every politician is not the same. Politics is played everywhere be it sports, education any kind of competition it's manipulated some or other way. It all depends on the way of working. Every politician is not bad there are some good ones too.
 Suhani : Tell me about some good and bad aspects of politics.
Sameer Meghe: As I said earlier, everyone is not the same. There are some good and some bad people. There are some ministers who are working hard for well-being of the nation and on the other hand we know how many bad politicians are there.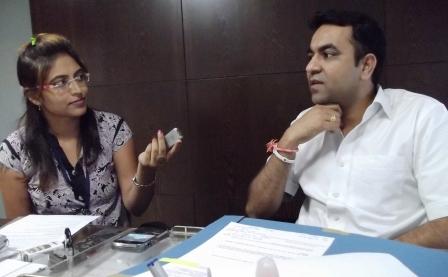 Suhani: No one was selected from Vidharbha or Maharashtra in the Central Government's cabinet. What do you think about that?
Sameer Meghe:  To answer this question, I am very young. I think the decision taken by the Prime Minister has to be right and I feel in the near future there will be some more induction which will include candidates from Maharashtra.
Suhani: How important it is for you to provide quality education in this high-priced phase.
Sameer Meghe:  I don't know about other places, but if we talk about my education institutions, we have tried our best to introduce the modern technologies and over time have been improvising it for the benefit of our students. Our major focus is on making a student an all rounder; hence we don't emphasis on the bookish knowledge. We take them for industrial visits, communication skill enhancement program, and have built a computer friendly environment in the schools. These skills are a necessity now and we try and concentrate on these, especially spoke English. And when we talk about the high priced and expenses, there is a fix pay that we have to give the teachers and since the beginning we have been providing support to the needy and we will continue to do it.
Suhani: Recently there has been a demand for the open elections at the university, and critics say that dirty politics will ruin this also. What are your views in that?
Sameer Meghe: Every coin has two sides. Student elections used to encourage violence, so I don't think elections are such a good idea. On the other hand, involvement of the youth in a healthy way would give an opportunity to the youth to learn good politics and this could definitely improve the system.
Suhani: How is your family supporting you and how do you manage your hectic life?
Sameer Meghe: I believe without family support a person cannot do anything. My family is always there with me and they keep motivating me in my work. A man's karma's cannot be avoided. And one has to learn to manage time so it all comes hand in hand.
Suhani: Who is you role model and what is your motto in life?
Sameer Meghe:  My father is my role model and my inspiration. My father has taught me, never expect praises
but at the same time don't give any opportunity for complains. And I just try my best to work on this line.
Suhani: what makes you so versatile?
Sameer Meghe: I am not doing anything extra ordinary. The empire was established by my father and my brothers,I am just following their footsteps and handling the responsibilities.
Suhani: Where were you 5 years back and where are you today? Where do you see yourself in next 5 years?
Sameer Meghe: 5 years back I was dicey regarding joining politics,today I am a politician, and 5 years later I want to serve students of different fields.
Suhani: Any message for the Nagpur youth?
Sameer Meghe: Keep working without expecting results. Keep at your best behaviour, and learn to give respect. To gain respect you have to give respect.
Suhani Vanjani