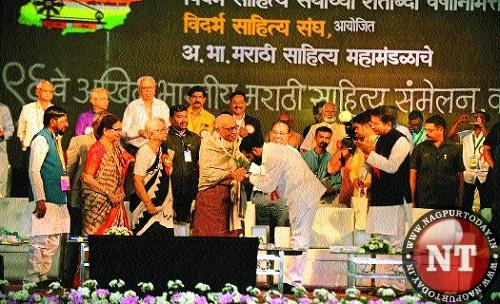 Wardha: "Issues that threaten society's well-being, strong sentiments arising out of such situations and sense of social responsibility often give birth to a responsible litterateur," said Chief Minister Eknath Shinde, while addressing the inaugural programme of the 96th Akhil Bharatiya Marathi Sahitya Sammelan being held in Wardha.
The literary meet has been organised by Akhil Bharatiya Marathi Sahitya Mahamandal in its centenary year by Vidarbha Sahitya Sangh (VSS), for which a grand Sahitya Nagari has come alive in the premises of Swawalambi Shikshan Mahamandal. The Sammelan was inaugurated by Chief Minister Shinde from the Principal Ram Shewalkar Vyaspeeth created in the Acharya Vinoba Bhave Sabha Mandap on Friday.
Deepak Kesarkar, Minister of State for School Education and Marathi Language, Justice Narendra Chapalgaonkar, senior litterateur and President of the Sammelan, Datta Meghe, Reception Committee President, Dr Vishwanathprasad Tiwari, senior Hindi poet and critic; renowned poet Dr Kumar Vishwas; MLA Dr Vishwajeet Kadam; Dr P D Patil, Chancellor of Dr D Y Patil Deemed University; Prof Usha Tambe, President of the Akhil Bharatiya Marathi Sahitya Mahamandal and Pradeep Datey, President of Vidarbha Sahitya Sangh were prominently present.
Speaking further, the Chief Minister asked the litterateurs to explore ways in which stories of great legends from Maharashtra could be taken to a wider world and good foreign literature could be translated for the benefit of local people. Speaking of Government's efforts to conserve rural language and dialects, Chief Minister urged the litterateurs to also mention the works of development done by the Government in their works. Saluting the land of Mahatma Gandhi and Vinoba Bhave, the Chief Minister expressed his readiness for the light and fountain show on the Sevagram route. On the occasion, he also declared to give the status of 'State Guest' to the President of the Sahitya Sammelan.
President of the Sammelan Justice Chapalgaonkar, in his speech, rekindled memories of former Vidarbha Sahitya Sangh President late Manohar Mhaisalkar. Speaking about the literary meet organised by the Government, he expressed hope that such meets be organised by autonomous bodies.
At the outset, Pradeep Datey, President of the Vidarbha Sahitya Sangh, promised to strive for maintaining the rich legacy of greats like late Mhaisalkar. Welcome Committee President Datta Meghe hoped for a grand success of the meet. Speaking on the occasion Prof UshaTambe, President of the Akhil Bharatiya Marathi Sahitya Mahamandal underlined the importance of Wardha's Sahitya Sammelan and informed about getting a fund of Rs 2 crore for the organisation of the Sammelan.
Outgoing President Sasane stressed that the society will have to keep coming back to the thoughts of Mahatma Gandhi. Outgoing President of Akhil Bharatiya Marathi Sahitya Sammelan Bharat Sasane handed over the reins of the organisation to Justice Chapalgaonkar. 'Daut Lekhani', a special issue of the Vidarbha Sahitya Sangh, was released on the occasion at the hands of Chief Minister Shinde. Ujjwal Mehendale, Secretary of the Akhil Bharatiya Marathi Sahitya Mahamandal, proposed a vote of thanks.