368 million liters potable water gone waste
Pipeline damage not only affected water supply but cause contamination too…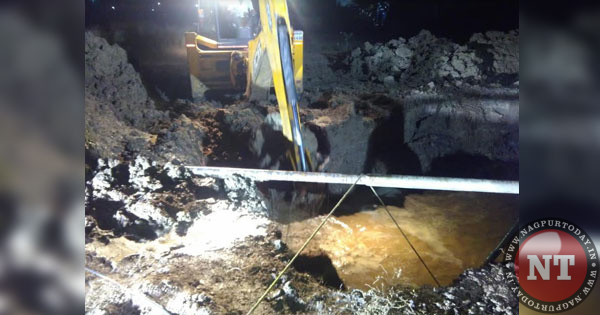 Nagpur: Nagpurian's were many times suddenly deprived from precious potable water supply or compelled to receive either polluted/ contaminated water at their taps. Reason the water supply feeder lines (major water pipelines) carelessly damaged by other agencies (Third party damage) at various locations across city.
As per records available, there have been almost 83 times feeder's lines damaged by several agencies like MahaMetro, NHAI, RelianceJIO, NIT, NMC PWD and others , which are working in Nagpur city for various other development works. . The total impact is loss of almost 368 MLD water that was wasted as well as people suffered from No Water as well as receiving polluted contaminated water after the damage.
It may be mentioned here continuing the trend on January 17, vendors like GML infrastructure damaged 200 mm dia NMC-OCW feeder line at Mhalgi Nagar Square while KCC Limited damaged another pipeline near MOIL office Sadar. Following this supply in major part of Nehru Nagar zone as well as Mangalwari zone remained affected. Police complaints have been registered against such third party vendors like GML Infra at Sakkardara police station while KCC Limited at Sadar police station in this regard at respective police stations.
Such feeder line damages by other agencies on underground pipelines at various locations forced NMC-OCW to declare emergency shut downs and stop water supply in particular areas without intimation many times. However in such situation also NMC-OCW tries to manage the water supply.
Technical experts in water industry informed that pipeline (feeder lines) damage is also major reason of Contamination of Water. Due to damage, valves get closed and pipeline gets emptied. As the sewer line status in the city is worst, maximum area damaged or waterlogged due to such issue. Sewer water entered in empty pipe and which becomes a major source of contamination.
There are distribution pipelines in the city which are always submerged in drain water or sewer chamber and due to which have developed leakages or are prone to leakages.
Whenever there is shut down due to such damages , the water pressure inside these pipelines reduces which allows the ingress of surrounding drain water from the water logged & sewer chamber into these pipelines. This is the major source of contamination in the city water supply.
Pipeline damage and emergency shutdown because of that ultimately results in more demand of Tanker trips in water supply affected areas. At times it becomes very difficult to arrange and cater to such pockets through Water Tankers.