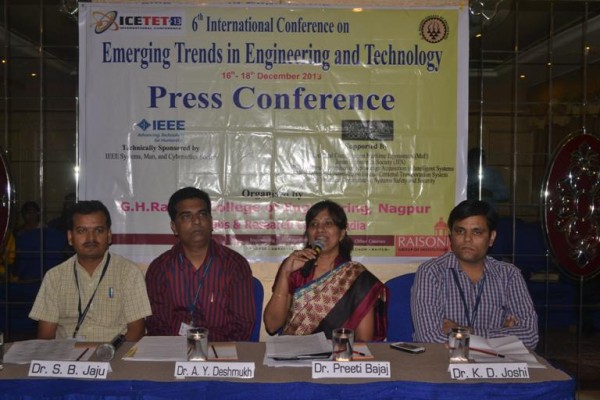 Nagpur Today: Keeping the tradition of being the best, in whatever they do, G.H.Raisoni College of Engineering Nagpur and GHR Labs & Research Center is organizing 6th International Conference on Emerging Trends in Engineering & Technology (ICETET-13) at Hotel Sun-n-Sand Nagpur under TEQIP-II.
G.H. Raisoni group has been organizing this International event every year for the last five years. ICETET-08 was organized at Nagpur, ICETET-09 was organized at Nagpur, ICETET-10 was organized at Nagpur, ICETET-11 was organized at Mauritius and ICETET-12 was organized at Japan.
It the first of its kind International Conference organized by any technical institute in Central India which is under the prestigious banner of IEEE (Institute of Electrical, Electronic Engineering) and which is world's largest and apex technical society IEEE.
The conference is scheduled for 3 days i.e. December 16 to 18 2013. ICETET-13 is technically sponsored by IEEE Systems, Man, and Cybernetics Society [SMCS] and supported by five committees and societies like Technical Committee on Maritime Ergonomics (MaE), Japan Ergonomics Society (JES), SMCS Technical Committee on Knowledge Acquisition in Intelligent Systems, SMCS Technical Committee on Human Centered Transportation System and SMCS Technical Committee on Systems Safety and Security.
A Conference proceeding will be published by IEEE Computer Society. Extended version of some of the selected Papers will be published in Special issues of Refereed International Journals. Papers will be indexed by IEEE Xplore.
The conference has involvement of many international researchers in the capacity of Advisory board members, PC members, organizing committee members and authors from Australia, Japan, Romania, USA, UK, Canada, Czech Republic, Taiwan, Singapore, China, Hungary, Egypt, France, New Zealand, etc.
ICETET-13 received 300 research publications. A special Ph.D track has been added this year. The renowned academicians and researchers across the globe reviewed these papers and 56 high quality papers were selected for presentation. Within India, papers were received from all corners of the Nation covering various NITs & IITs like IIT Delhi, BITS Pilani, VNIT Nagpur, SVNIT Surat, JNTU, DAVV Indore, GGSIP University, Thapar University, IIMT etc and research organizations and industries like Mentor Graphics, IDRBT, BSNL etc.
There are 15 technical parallel sessions on Robotics & Embedded Systems, Industrial Engg, Network Security & Forensics, Intelligent systems, Data mining & cloud computing, Wireless sensor networks, Soft Computing, Power electronics & Power Systems, Modern Electric Drives & Control, Signal Processing & Pattern Recognition, Intelligent Transportation Systems, VLSI/MEMS.
The conference programme is very attractive with Pre conference Tutorial on Fuzy Systems by Valentina Balas from the University of Arad Romania. She will also be delivering Plenary talk on Advanced Computational Intelligence-Based Research.
The Keynote address will be delivered by Dr. L. C. Jain from Australia on "Advances in Intelligent Paradigms and Applications in Engineering & Science".
There will be 6 Invited Talks by eminent academicians and researchers like –
1. Dr.R.P.Mohanty- Vice Chancellor, Shiksha `O' Anusandhan University, Bhubaneswar, Odisha, specially on "How to write good Doctoral Thesis and deliver pre-submission seminar"
2. Dr.Sudip Mishra- IIT Kharagpur on "Recent Research Trends in Underwater Sensor Networks"
3. Dr.Tadahiko Murata-Kansai University Japan on "Mechanism of Quality Deterioration in Market with Asymmetric Information: How to Keep Goods Quality?". In this talk, he will show detailed simulation results on Lemon Market that George Akerlof, 2001 Nobel Prize recipient in Economics, introduced. Lemon market is a market with asymmetric information between sellers and buyers.
4. Dr.Koji Murai-Kobe University Japan on "Analysis of A Mariner's Performance using Large Model Sensor and Physiological Index". There are various physiological indices in the world, for example heart rate variability (R-R interval), nasal temperature, and salivary amylase; these are exactly good indices but cannot represent quick response on the spot and the trend like a moving average as well as salivary NO3.
5. Dr. Swagatam Das-Indian Statistical Institute, Kolkata on "Swarm Intelligence". He will talk on the collective behavior of decentralized, self-organized systems, natural or artificial. The concept is employed in work on artificial intelligence.
6. Dr.Mukesh Zaveri-SVNIT Surat on "Emerging trends in image processing : IDH Application"
The special attraction will be "Ph.D. Colloquia" wherein around 100 research scholars will be presenting their research work in varied technologies. The awards will be given to "Best PhD Work".
Deputy Secretary of Higher & Technical Education, Government of Maharashtra, Dr.Abhay Wagh will grace the conference. The general chairs of the conference are Director of GHRCE Dr. Preeti Bajaj and Kobe University from Japan Dr. Koji Murai. The honorary chair is Dr.L.C.Jain from University of South Australia. The organizing committee acknowledges the continuous support, motivation and encouragement by Hon. Chairman RGI, Sunil Raisoni and Management council member of R.T.M.Nagpur University and Secretary ASS, Shobhaji Raisoni. The core team members include Deputy Director of GHRCE & International Co-Chair Dr. A.Y.Deshmukh, Dean R&D of GHRCE & Program Chair Dr.S.B.Jaju, I.I.I. coordinator of GHRCE & Publication Chair Prof.K.D.Joshi have worked very hard to organize the conference.
Highest number of projects for patenting in Central India
G H Raisoni College of Engineering is the only institute to have applied for 29 projects for patenting. Director of G H Raisoni College of engineering Preeti Bajaj claimed that this is the highest in Central India. She added that this is their USP and that with the able guidance of guides and mentors of the Innovation Cell, every project that students work on get 100 per cent financial assistance. This encourages the students to bring out the innate talents and capabilities to create and experiment on newer concepts and ideas. In next 2-3 years the institute will get the final patent rights of the same. Almost all the students are encouraged to become a member of IEEE so that their works can be posted on net and their research is viewed by many reviewers and get ratings.
Preeti Bajaj also claimed that they have the highest number of Accreditations and ranked highly by many national and international agencies.